Eliminate analysis paralysis.
Keep your focus on Price, without losing sight of the complete technical picture.
Better Charts.
Better Decisions.
GoNoGo Charts
Trend identification is arguably the most important concept in technical analysis. Watch this brief video for an explanation of GoNoGo Charts:
The GoNoGo Trend indicator helps analysts, traders, and portfolio managers understand the direction and continuity of a trend of any security within any asset class observed over any time frame. Momentum goes hand in hand with trend identification.  The GoNoGo Oscillator helps the analyst understand the velocity of price change giving valuable information about the strength of a trend and the market's conviction in it. Strong or increasing momentum provides confirmation of a trend, while decelerating momentum gives the investor a leading indication of weakness and potential reversal of a trend.
By blending objective, widely-proven statistical measurements together with the foundational principles of technical analysis, the GoNoGo Trend indicator colors the price action of any security according to the strength of its trend.  Free from the clutter of many technical charts, the GoNoGo Trend indicator is easy to interpret.
The other GoNoGo indicators round out the picture by applying these concepts.  The GoNoGo Squeeze highlights periods of reduced volatility.  The GoNoGo Heat Maps allow you to visualize multiple securities/markets relative trends.  The GoNoGo Risk indicator provides the user with an understanding of the current risk exposure.
The "Go/No-Go" terminology is borrowed from a type of pass/fail testing system often used  by NASA as a launch status check.  If the launch does not have the highest probability of success, it will be delayed or shut down as "No-Go." Complex environmental factors combined with the precious cargo of human space exploration require that systems are checked in triplicate before a shuttle is "Go" for launch. In the early stages of developing these tools, that metaphor had striking similarities to the disciplined process of investing. Uncertainty in the market is unavoidable, but for every trade decision where capital is at risk, making sure you have confirmation from multiple measurements that conditions are right gives you the highest probability of success. The GoNoGo Indicators were meticulously developed over years to equip the investor with simple to read measurements about whether the market environment is a "Go" for launch in terms of an idea, strategy or investment.
Alex Cole - Co-Founder & CEO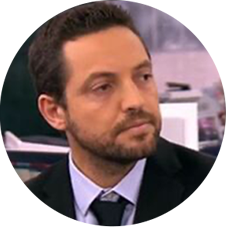 Alex Cole is a market analyst and software developer. Over the past 15 years, Alex has led technical analysis and data visualization teams, directing both business strategy and product development of analytics tools for investment professionals.
As an analyst, Alex has frequently contributed to financial news industry organizations such as Bloomberg and Benzinga. He has delivered presentations to the members of the CMT Association in the US and internationally including the 44th Annual CMT Symposium in NYC and the 2020 India Investment Summit. In addition, Alex has provided multiple workshops based on the GoNoGo Charts suite of indicators as part of the CMT's educational webinar series.
Alex has created and implemented training programs for large corporations and for private clients. His teaching covers a wide breadth of Technical Analysis subjects from introductory to advanced trading strategies. In addition, Alex serves as the lead instructor and subject matter expert for John Wiley and Son's Efficient Learning division. Alex was responsible for creating instructor materials and video lectures for a complete educational course designed to prepare candidates for the CMT Program.
Alex earned his MA in English Literature and an MBA in Global Management from Fairleigh Dickinson University.
Tyler Wood, CMT - Co-Founder & COO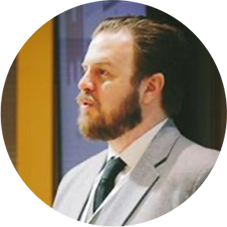 Tyler Wood, CMT - co-founder of GoNoGo Charts - is committed to expanding the use of data visualization tools that simplify market analysis to remove emotional bias from investment decisions.
Tyler has served as Managing Director of CMT Association for more than a decade with the aim of elevating investors' mastery and skill in mitigating market risk and maximizing return in capital markets. He is a seasoned business executive focused on educational technology for the financial services industry. Since 2011, Tyler has presented the tools of technical analysis around the world to investment firms, regulators, exchanges, and broker-dealers.
Tyler is a familiar voice to many as the co-host of Fill the Gap: the official podcast of the CMT Association and a regular guest in University classrooms through the Academic Partner Program. Prior to joining the CMT Association, Tyler worked in management consulting and publishing. As an executive manager over the past 20 years, he has managed product, brand communications, and sales teams to drive top-line revenue growth for public, private, and non-profit entities.
When he is not immersed in markets, Tyler is hiking the Adirondacks with his family or playing percussion for various bands along the east coast. Tyler graduated from Macalester College and received his MBA from the Kelley School of Business at Indiana University.