Good morning and welcome to this week's Flight Path. Let's take a look at the GoNoGo Asset map below.  Equities have taken a beating this past week or so as the full impact of inflation and rising rates comes to bear on stock prices.  Treasury bond prices haven't fared much better and we've seen what has happened to bitcoin.  The third panel shows commodities, and we can see an amber "Go Fish" bar creeping in at the end of the week for the asset class that has given so much of late.  The dollar, is hanging on to its "Go" trend.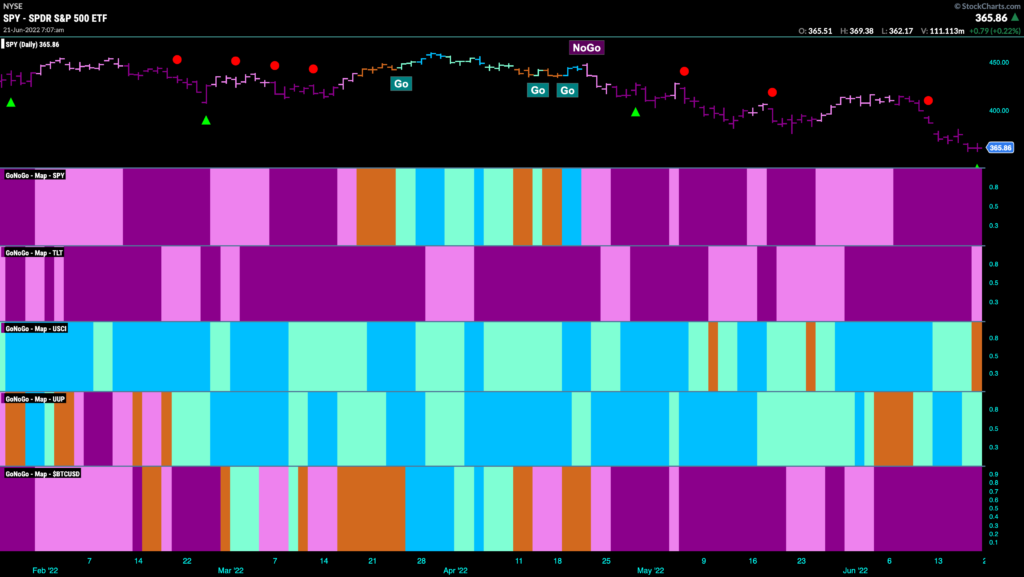 Sector Performance
Below is the GoNoGo Sector Relmap.  This GoNoGo Relmap applies the GoNoGo Trend to the relative strength ratios of the sectors to the base index.  Looking at this map, we can quickly see where the relative outperformance is coming from as well as which sectors are lagging on a relative basis.  The GoNoGo Sector Relmap is getting more defensive each week.  Joining technology, communications, discretionary, financials, and real estate are materials and staples with a pink bar to end the week.  The holdouts this week are energy, (in a relative "Go" trend) industrials and healthcare.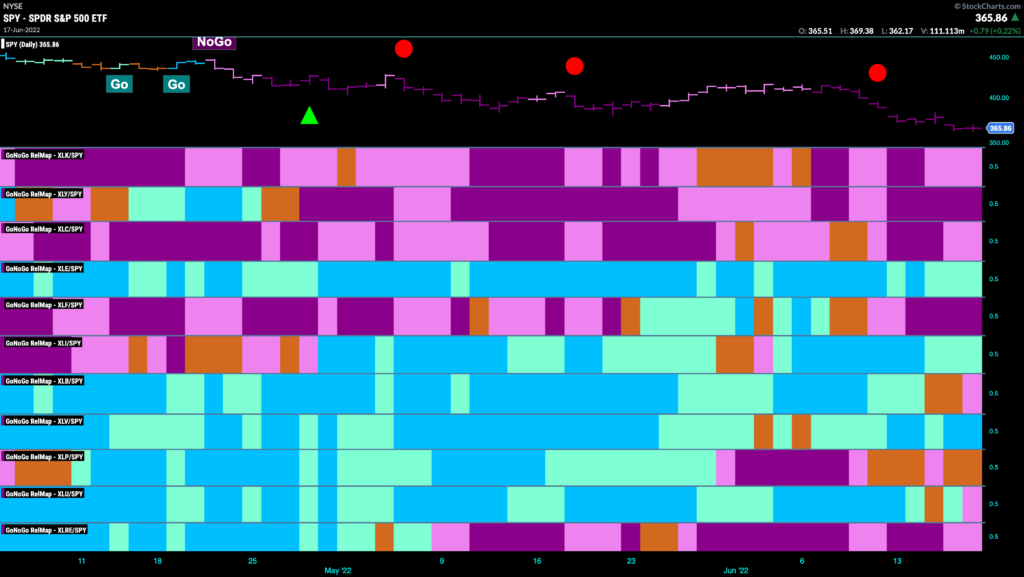 S&P 500 Sets New Lows
Below is the daily chart of $SPY.  Prices continued to plummet last week as strong purple "NoGo" bars took price to new lows on heavy volume.  We do see a green NoGo Countertrend correction arrow indicating that perhaps in the short term prices will stabilize or rally against the trend.  This is trend is strong though and we certainly wouldn't be looking at this as a buying opportunity yet as fears of recession are rife.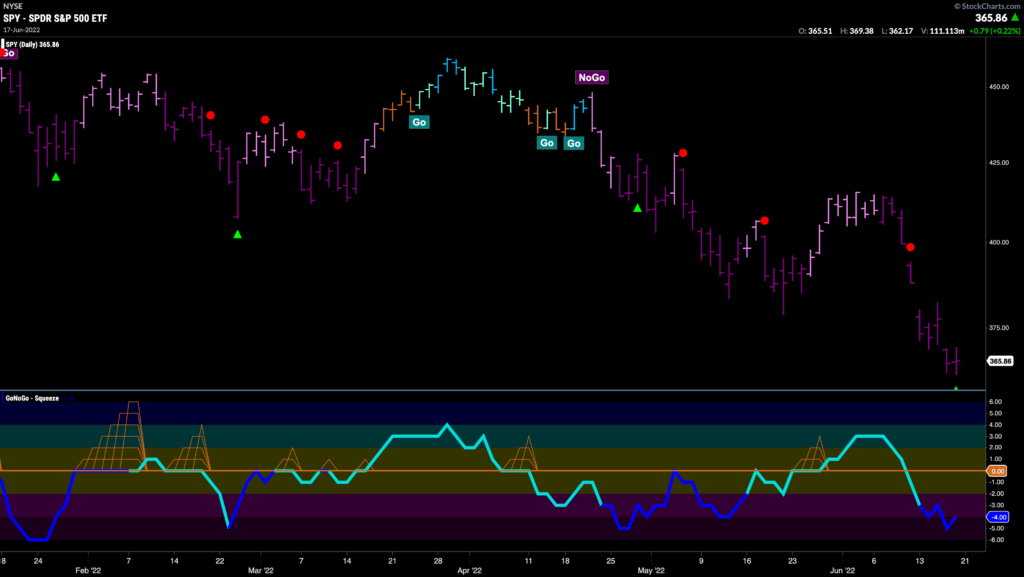 Zooming out to the long term chart of $SPY, we can see that last week's price action broke a significant level of support.  The strong "NoGo" bar coincided with GoNoGo Oscillator rolling over and making a lower high just below the zero line. The outlook is bleak for equities on multiple time frames.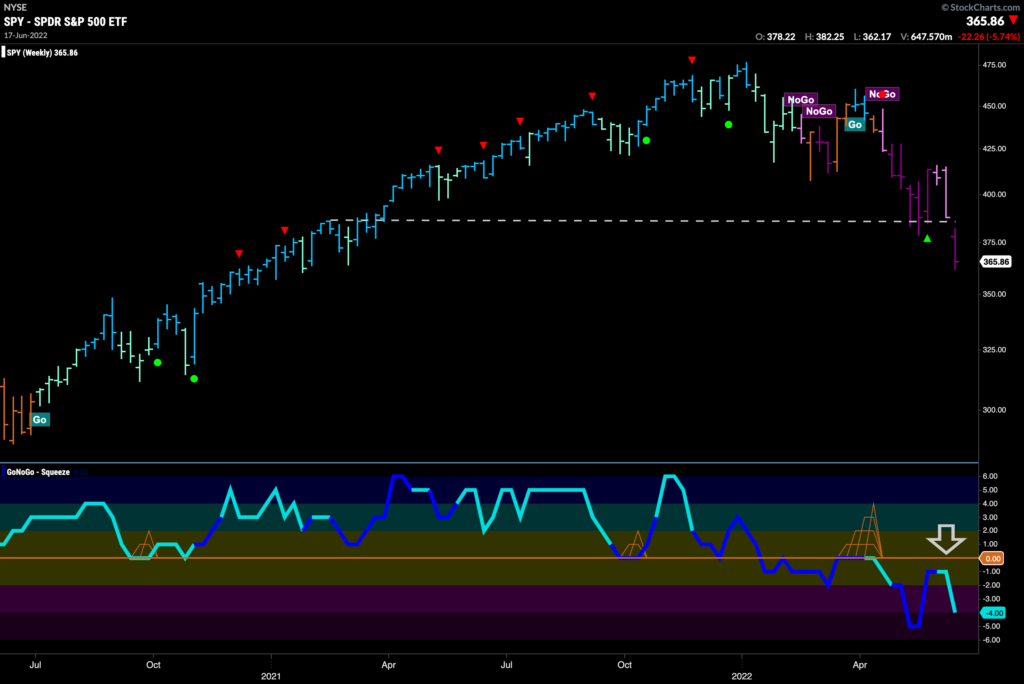 Rates Looking to Rally off Support
So while fears of inflation abound, we'll look at what have been the primary drivers of the moves in the equity market of late, starting with rates.  We have seen the way rates have risen so quickly and are threatening to break above downward sloping trendline resistance on the long term chart.  What about in the short term?  The chart below shows the daily prices of the 10 year treasury yield.  We can see that after rising again over the last few weeks and resuming the "Go" trend, we have pulled back a little after the high that was signaled by the Go Countertrend Correction red arrow.  We are now at the support of a prior high.  GoNoGo Oscillator is also approaching zero.  We will look to see if support is found here.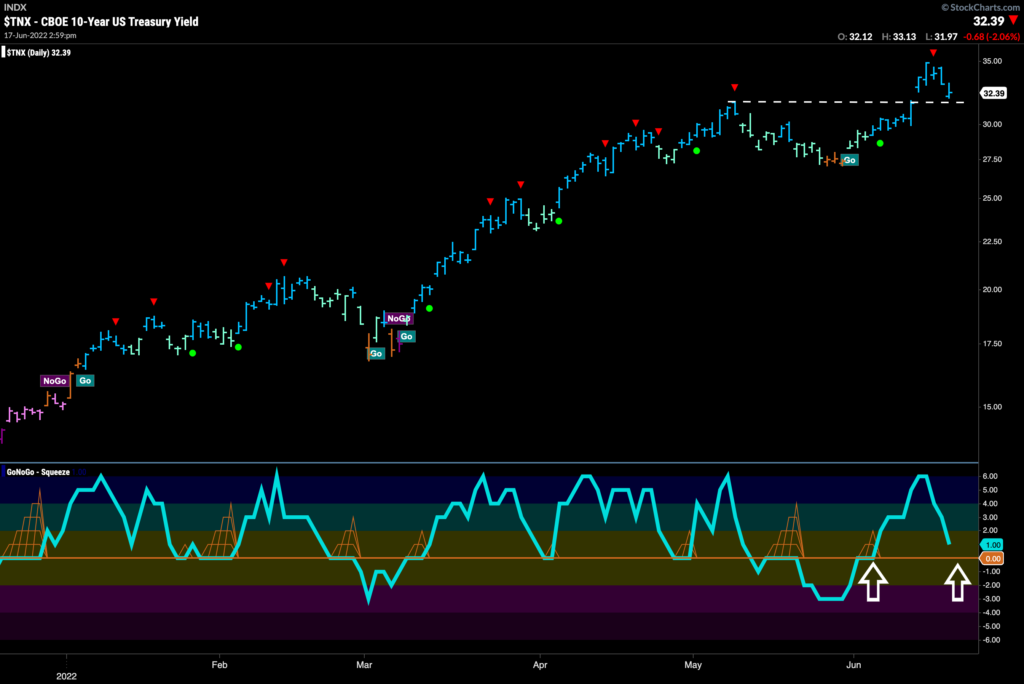 Dollar Drumming up Support?
Is the dollar going to keep moving higher?  Currently we are looking at a "Go" trend in the greenback.  We see GoNoGo Trend painting weaker aqua "Go" bars as GoNoGo Oscillator approaches the zero line on heavy volume.  Having just made a higher high, we will watch to see if GoNoGo Oscillator is able to stay in positive territory and if it does, we can expect the "Go" trend to continue in the dollar.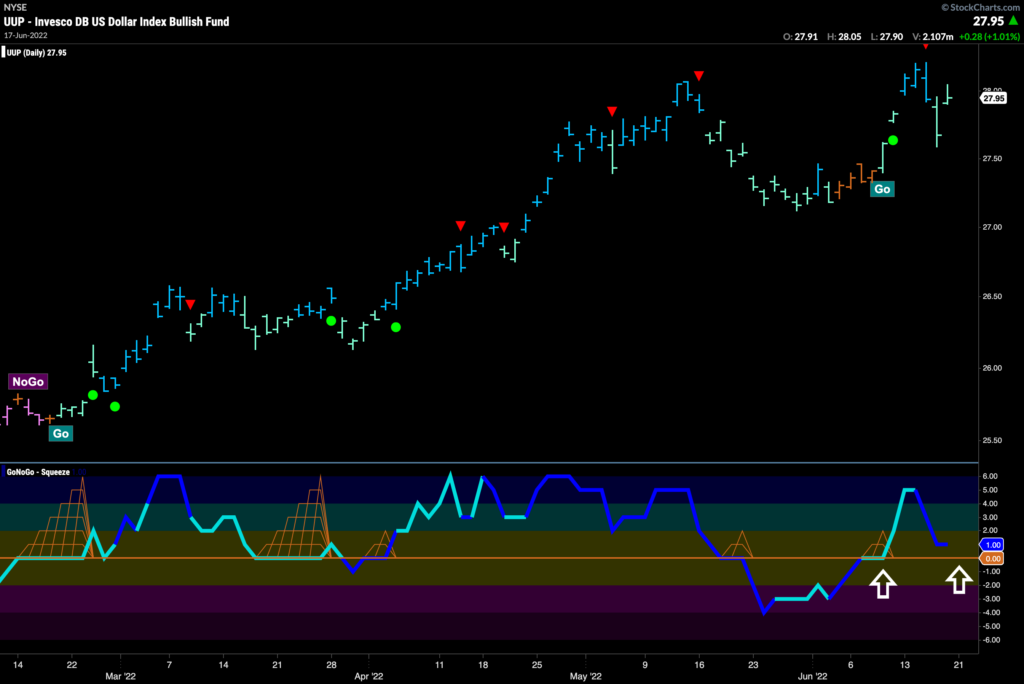 U.S. Oil Flirting with Support at Zero
What about oil?  The most robust "Go" trend of 2022.  It is still in a "Go" trend, although a Go Countertrend Correction red arrow warned us of the current move lower.  GoNoGo Oscillator has crashed to the zero line on heavy volume and appears to be dipping into negative territory.  With price at the support of the highs of the consolidation of the last few months, this is a critical inflection point.  We will need to see GoNoGo Oscillator quickly recover into positive territory if price is to find support here and for the "Go" trend to continue.
Agiliti Inc: Agile Enough for More Gains?
We saw that healthcare was outperforming on a relative basis.  It was one of the few sectors that was.  Below is the chart of $AGTI.  We can see that a new "Go" trend has been flagged as GoNoGo Oscillator finds support at the zero line on heavy volume.  Go Continuation green circle on the first "Go" bar!  That doesn't happen often.  Let's see if the healthcare provider can continue to move higher.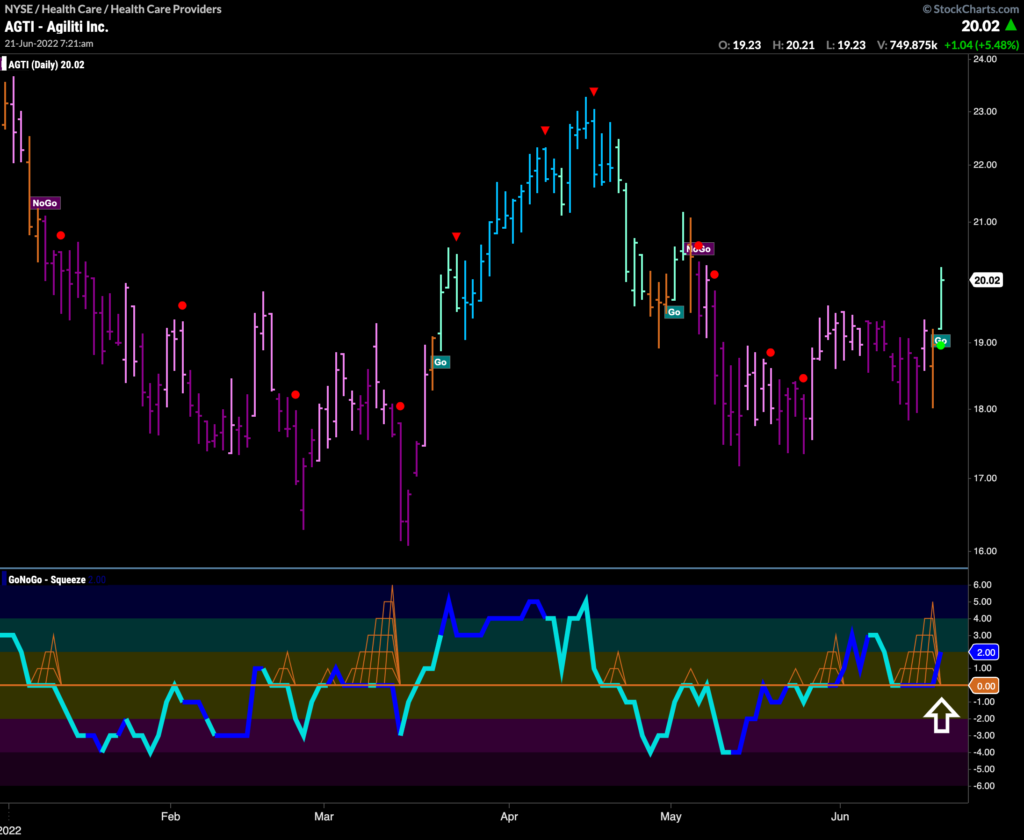 CryoPort Inc Looks for "Go" to Continue
A stock in the materials sector (which has been a consistent outperformer this year until this point), $CYRX  is looking to emerge out of a basing pattern and is testing resistance.  Having made higher lows, GoNoGo Trend was able to break out of NoGo colors by painting a string of amber "Go Fish" bars and now has painted a succession of "Go" bars.  As GoNoGo Trend has cycled through the colors, GoNoGo Oscillator was able to test and break out of a GoNoGo Squeeze to the upside and is now finding support at zero.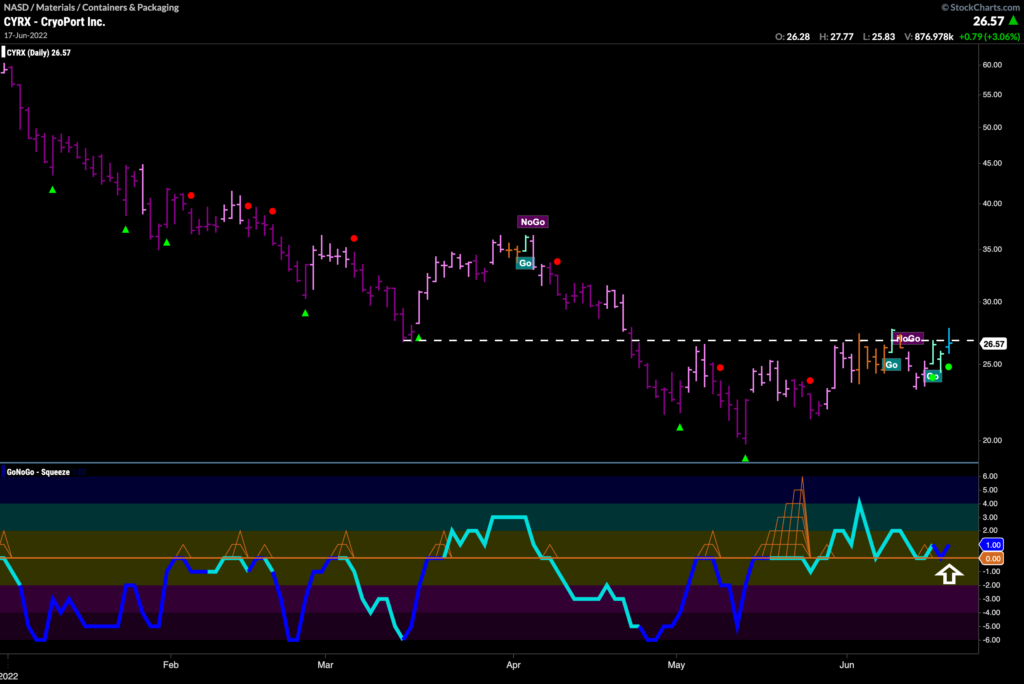 We'll Keep Using our Discretion - $ETSY
Underperformance in discretionary has been the theme of this year.  The chart below shows $ETSY, we can see that as price makes new lows on strong purple "NoGo" bars, GoNoGo Oscillator has broken out of a max GoNoGo Squeeze back below the zero line and has quickly found resistance at that level.  This has caused two NoGo Trend Continuation red circles to appear above price, indicating that momentum has resumed in the direction of the "NoGo".  We can expect price to try to set another lower low.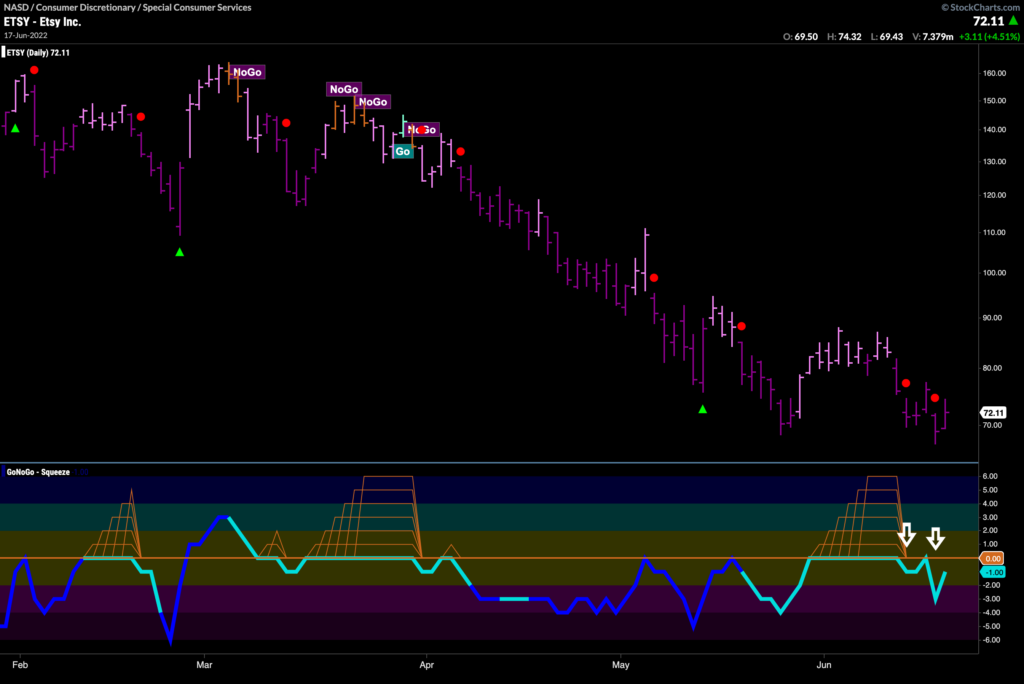 BETTER CHARTS. BETTER DECISIONS.
Tags:
#RelativeStrength
$AGTI
$CYRX
$ETSY
$SPY
$TLT
$TNX
$USO
$XLE
GoNoGo Heat Map
GoNoGo Oscillator
GoNoGo RelMap
GoNoGo Sector RelMap
GoNoGo Trend