Good morning and welcome to this week's Flight Path.  Let's take a look at the below GoNoGo Asset Map for this week.  The top panel shows that the "Go" trend has resumed in force in U.S. Equities.  After a correction that saw just about a month of "NoGo" bars, GoNoGo Trend returned to strong blue "Go" bars as price has climbed to a new high this month.  Commodities remain in the "Go" trend as price takes a bit of a pause. The U.S. dollar after painting an amber "Go Fish" bar ended the week in a strong "Go" which continues to suggest bullishness for commodities.   Bitcoin is hanging on to its "Go" trend as well.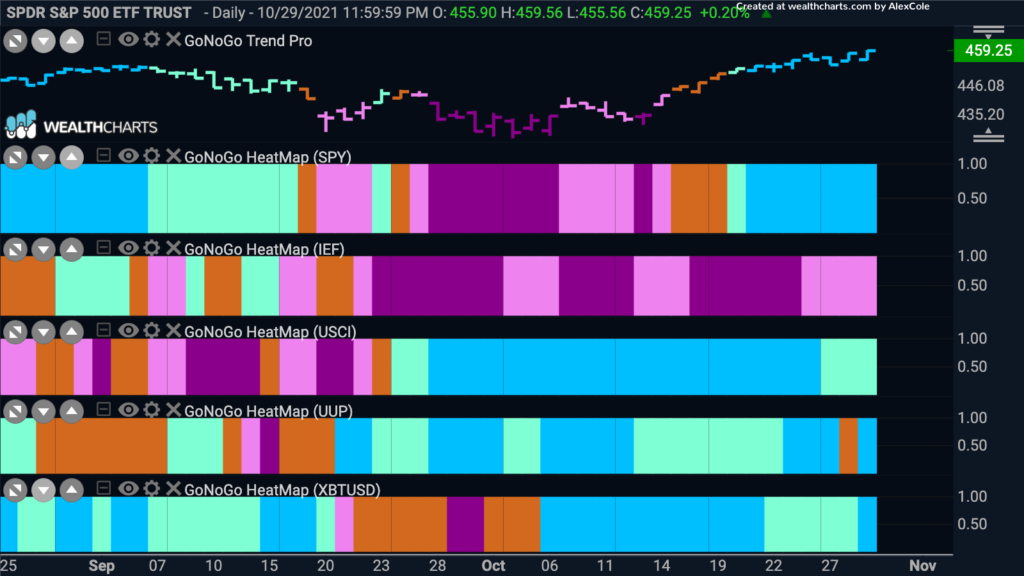 S&P 500 soars again
Below is the chart of the $SPY with GoNoGo Trend and GoNoGo Oscillator applied.  The "Go" trend has returned in force over the last few weeks.  Emerging out of the "NoGo" with a series of amber "Go Fish" bars in mid October GoNoGo Trend began painting strong blue "Go" bars as price set a new high. We can now look for support at those prior high levels should price consolidate in the near future.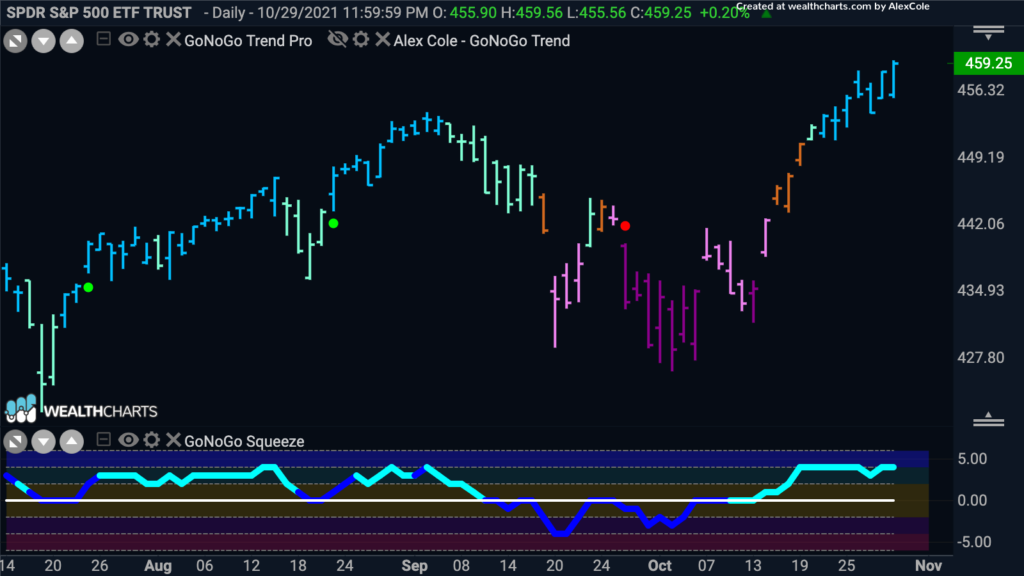 Sector Strength
Below is a GoNoGo Sector RelMap.  The chart applies the GoNoGo Trend to the relative ratio of each sector ETF to the base ETF, the $SPY.  There are three sectors that are showing relative "Go" trends to end the week.  Consumer discretionary ($XLY), energy ($XLE) and financials ($XLF).    Materials ($XLB) has been trying to establish a new "Go" trend since mid September but it hasn't been smooth sailing.  This week saw a string of amber "Go Fish" bars as GoNoGo Trend finds a lack of clear direction.  We will look to see if this sector can return to leadership suggesting good things for a growing economy.
Use Your Discretion!
The discretionary sector is still showing strength relative to the overall market as we saw in the GoNoGo Sector RelMap above.  This outperformance has been in place now for several weeks.  The chart below shows the daily price of the sector with the GoNoGo Trend and Oscillator applied. After breaking above resistance in mid October price has raced higher and GoNoGo Oscillator is now overbought showing enthusiastic buying.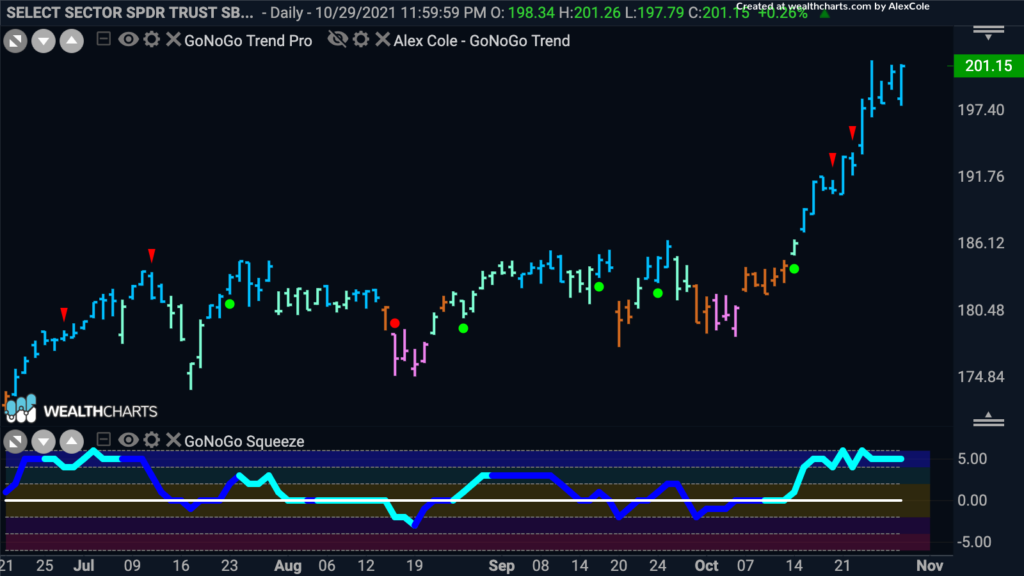 Try to Stop Tesla!
Of course, the heavyweight in the discretionary sector is Tesla.  In a daily premium note that went out on June 24th, we noted the change in technical environment for Tesla and the new "Go" trend that had been identified by GoNoGo Trend.  Since then, the "Go" trend has been uninterrupted and GoNoGo Oscillator has been largely finding support at the zero line giving investors the chance to size up positions or take part in the move.  Currently, we see the "Go" trend in full force but with GoNoGo Oscillator extended at overbought levels on heavy volume.  When the oscillator falls back below 5 we will expect a short term consolidation sideways or slightly against the trend as investors digest gains.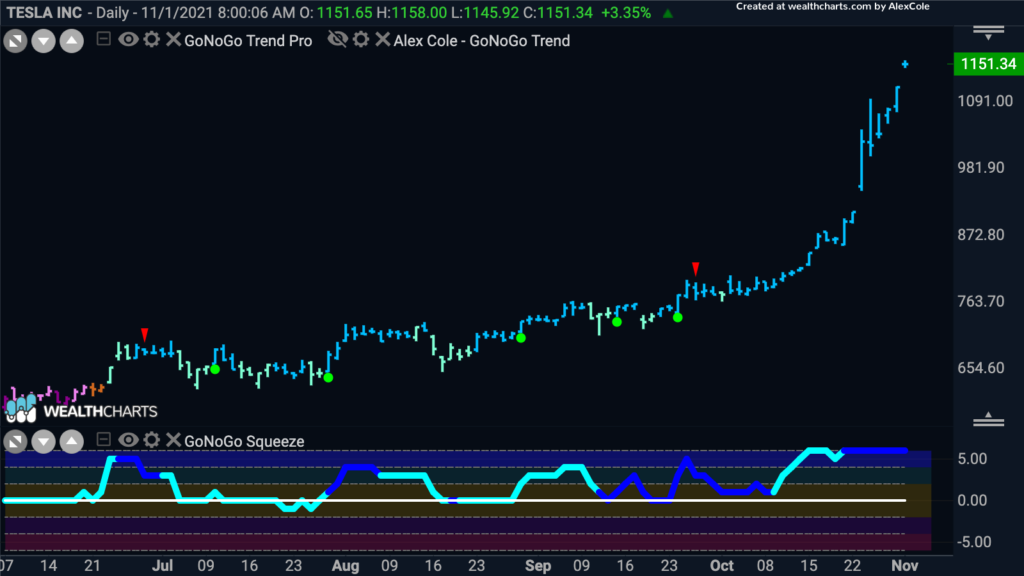 Fancy Footlocker to catch up?
An aggressive play would be to look around the discretionary sector to find stocks that are not yet moving higher.  One such stock is Footlocker($FL).  With a trailing 12 month P/E of 5, Footlocker is a value stock which could have room to move higher if it enters a "Go" trend and takes part in the sector outperformance.  Currently, this stock is in a "NoGo" trend but for a particularly aggressive investor, we are seeing the first signs of something positive.  Price seems to have set a higher low, and importantly, from a GoNoGo perspective, the GoNoGo Oscillator was not rejected at the zero line as you'd expect in a "NoGo".  Indeed, it broke above zero and is now testing it from above.  We will look to see if now becomes support at that level, in which case we may see price make a first higher high.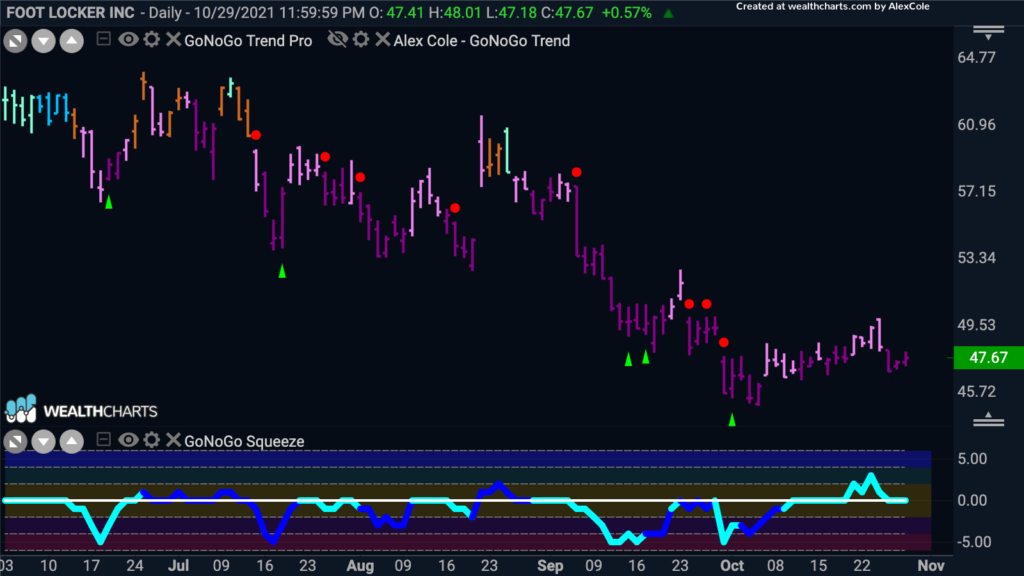 Materials still in play?
At the outset of this note, we saw in the Sector RelMap that the materials sector was painting relative "Go Fish" bars.  Neither outperforming or underperforming the base index.  If the reopening of the economy is still a theme moving forward, which many believe it is, let's take a look at the pure GoNoGo Chart for the sector.  If we were to look at a daily chart we would see that the trend is a "Go" but it has been choppy of late.  Let's zoom out to put current price action in perspective.  Below is a weekly GoNoGo Chart of $XLB.  We can see that the "Go" trend is in place and has been since the summer of last year.  We can also see that after riding the zero line for several months as prices moved generally sideways the GoNoGo Oscillator has been able to move back into positive territory on heavy volume.  This has caused a Go Trend Continuation green circle to appear under price.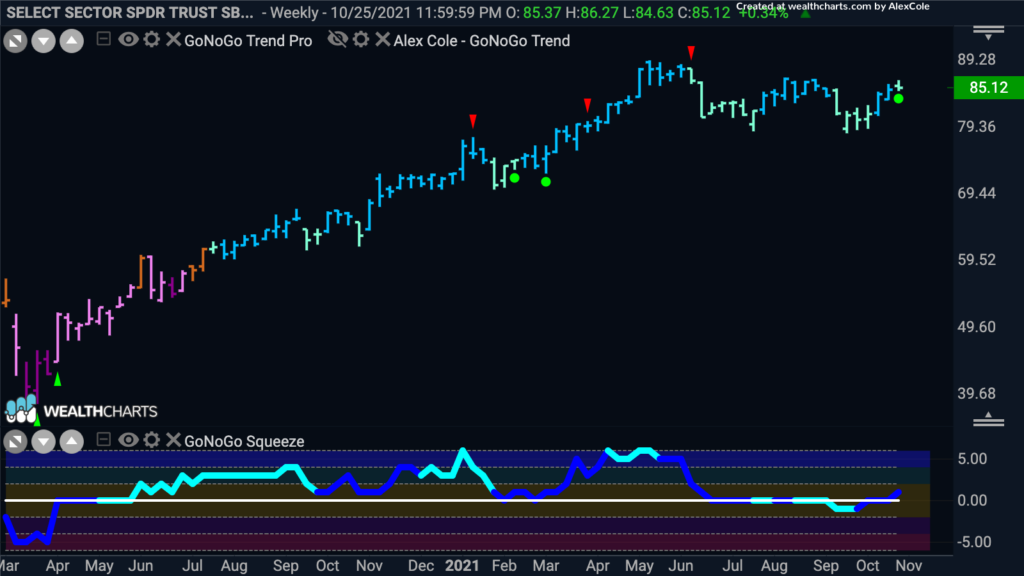 Given that the long term trend in materials seems to be in place, let's take a look at the daily chart of silver, $SLV, to see if we can be positioned on the right side of that bigger "Go" trend.  Below is the GoNoGo chart of $SLV.  We can see that after a "NoGo" correction that lasted several months, price has rallied off the lows from the end of September.  The GoNoGo Oscillator was able to break into positive territory and GoNoGo Trend followed by painting amber bars before identifying a "Go" about a week ago.  After that rally, price has fallen back, causing the oscillator to test the zero line from above.  We will look to see if GoNoGo Oscillator can find support at zero, and if it does, we will see a green Go Trend Continuation icon appear under price which would offer a low risk opportunity to enter this new "Go" trend.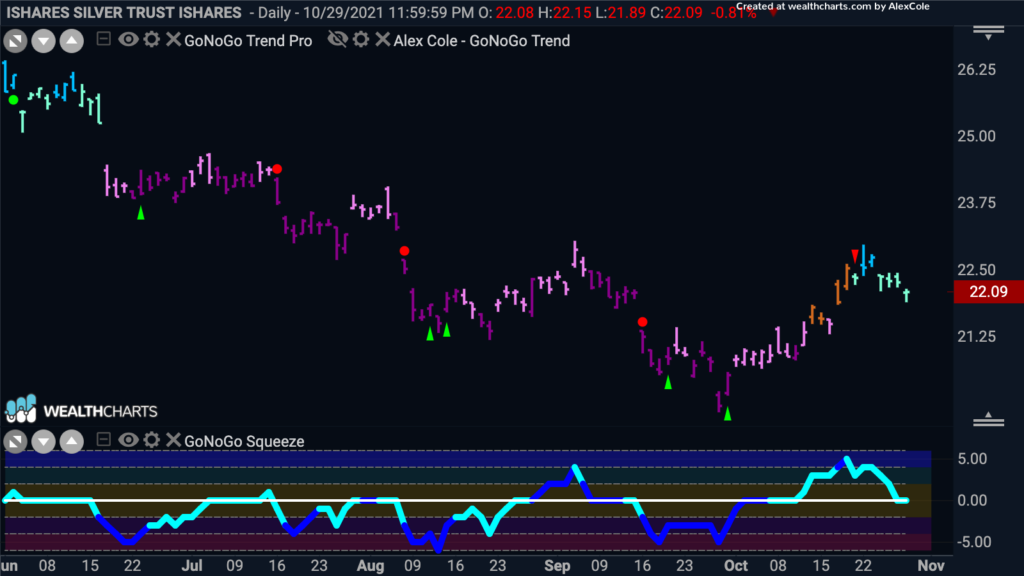 BETTER CHARTS. BETTER DECISIONS.