Run Lola Run! It's Groundhogs' Day All Over Again
For the second week in a row, the major U.S. stock indexes appeared to be on the verge of an overall gain at midweek, only to end up negative after declining on Thursday and Friday. Indexes fell nearly 2%, as investors read endless analyses on the building tension at the Russia-Ukraine border.
If you are feeling like Franka Potente trying to outrun the mob, or Tom Cruise in "Live Die Repeat" battling alien invaders each week, there's good news… this isn't a lesson in metaphysical time loop sci-fi, it's just investing! You are in charge of your portfolio, and you can take action to alleviate this frustrating cycle.
GoNoGo Charts have highlighted the S&P 500 in a "NoGo" trend for most of 2022. Today's issue of Flight Path from GoNoGo Research will cover several alternative investment arenas to consider. But for anyone confined to US Equities in your investment mandate, consider the chart below. While all US Equity indices ended down last week, the chart below shows the relative trends of the Dow Jones Industrial Average, Russell 2000 small caps, and Nasdaq 100 against the S&P 500. We can see the Dow steadily outperforming the S&P YTD in aqua and blue relative Go trends: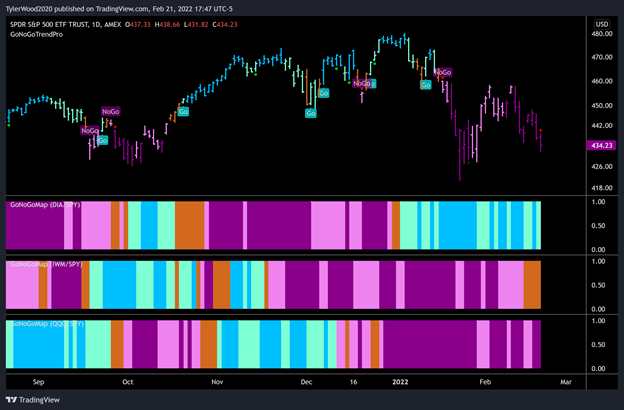 The theme is clear, capital-intensive blue-chip quality companies are showing relative strength over the broad S&P 500, small-caps, and growthy tech stocks. Winning by not losing.
A Note on Small-Cap Performance
U.S. small-cap stocks have lagged their large-cap peers' year to date, but they've outperformed large caps for the past two weeks. We can see the potential trend reversal taking shape on the GoNoGo Chart below. Currently painting amber bars, all combined inputs declare the trend is in a neutral state. Evidence for the upside is in the lower panel as GoNoGo Oscillator has broken through the zero line from below. Positive momentum tells us that buyers have overwhelmed sellers. The Russell 2000 Index a representative small-cap benchmark ($IWM) has risen about 0.3% over the past two weeks, while large-cap equities have fallen nearly 4% over the same period.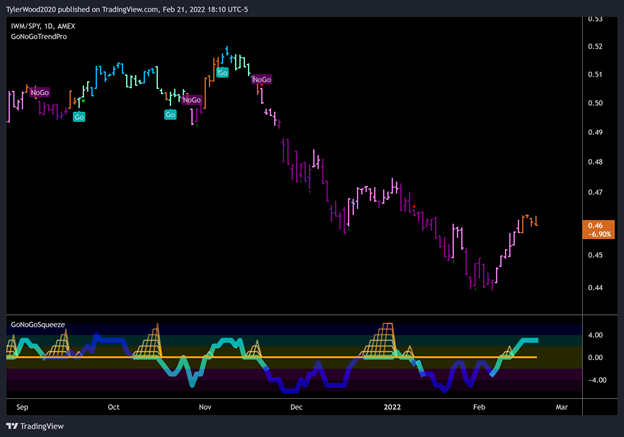 Using the F-Word
With 86% of S&P 500 companies having reported fourth-quarter results as of Friday, earnings season is on track to record year-over-year profit growth exceeding 30.0% for the fourth quarter in a row. This earnings streak is a helpful data point for the bulls as it further dampens the threat of overstretched valuations.
In the growth-stock space, NVIDIA (NVDA), Shopify (SHOP), Roblox (RBLX), Roku (ROKU), DraftKings (DKNG), Fastly (FSLY), and Redfin (RDFN) suffered steep losses following their earnings reports. The disappointing reactions fueled concerns that valuations were still too high.  See the hourly GoNoGo Trend chart of ROKU below.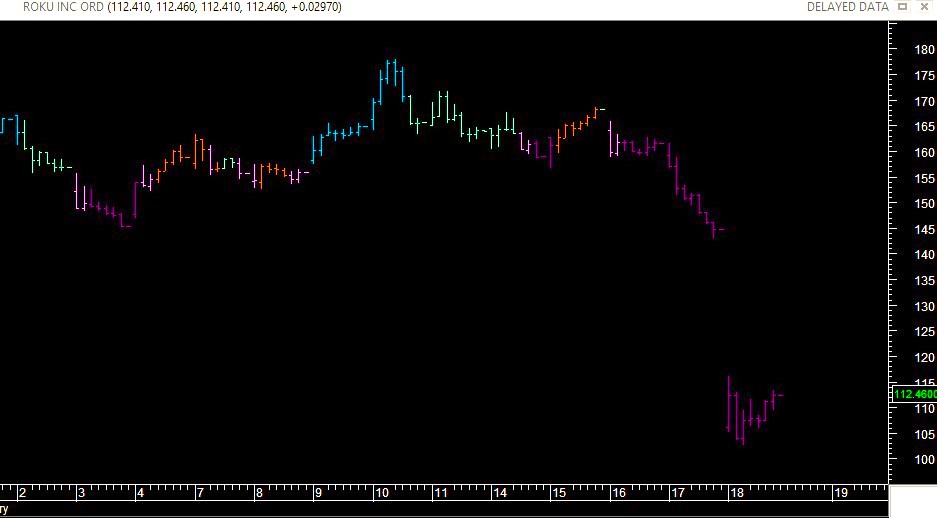 If we consider the P/E ratio an important measure of the value of underlying companies represented by the shares we trade, two things can alleviate "overvalued" stocks: 1) price can come down, 2) earnings can increase. At this moment, both are happening which may make US Equities more attractive in the intermediate-term.
Volatile Yields
It was another bumpy week in the government bond market, as the yield of the 10-year U.S. Treasury climbed as high as 2.06% on Wednesday—the highest since July 2019—before slipping down to around 1.93% on Friday. Markets digested the Fed minutes while considering the imminent geopolitical tensions and dropped the likelihood of a 50 basis point hike in rates this March. Investors' expectations of hawkish central bank policies are already baked into the market, but the swift climb in yields YTD has changed the environment for many trends of 2021. Remember, as recently as early December, the yield was below 1.40%.
Below is a GoNoGo Chart of 10 YR US Treasury Yields peaking just above 2%:
And here is the 2YR Yield which settled around 1.45% on weaker "Go" trend conditions as GoNoGo Oscillator fell from extreme overbought and is now resting at the zero-line: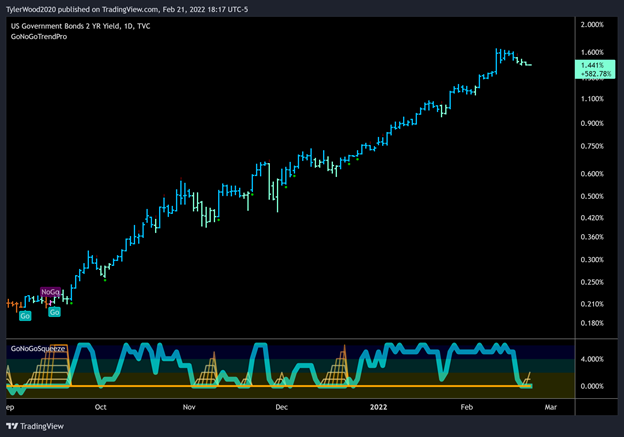 GoNoGo RelMap: S&P Sector Relative Performance
Ten of the 11 S&P 500 sectors ended last week in negative territory. The typically defensive consumer staples sector $XLP outperformed within the S&P 500 Index. Gaining over 1% last week, the sector was fueled by gains in Walmart and Procter & Gamble – both countertrend rallies within "NoGo" conditions. A steep decline in Meta Platforms $FB (Facebook) weighed heavily on the communication services sector.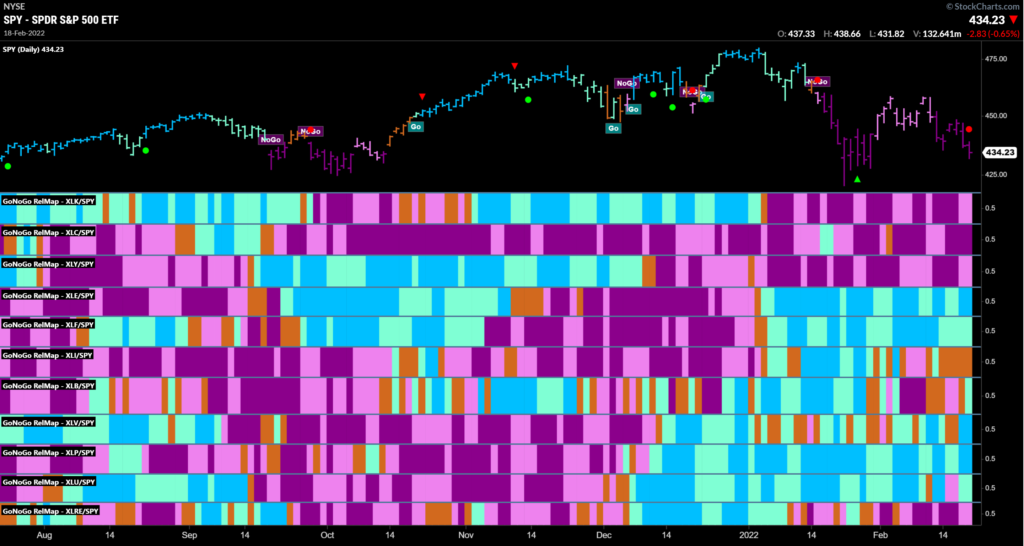 6 sectors outperformed the broad S&P 500 Index to end this week
Energy $XLE, Financials $XLF, and Consumer Staples $XLP maintained their consistent "Go" trends
Materials $XLB, Healthcare $XLV, and Utilities $XLU gained "Go" trend conditions relative to the S&P 500 last week
Your top three panels: Technology $XLK, Communications $XLC, and Consumer Discretionary $XLY all remain in "NoGo" trends
The Energy sector $XLE, while still in a "Go" trend was the laggard last week with a -3.7% decline. Oil prices briefly fell below $90 per barrel losing 2% last week amid reports indicating that a nuclear agreement with Iran was within reach: potentially leading to an increase in global supply.
Work from Home, Shop from Home
On Wednesday, U.S. retail sales data for January came in well ahead of expectations, despite omicron worries. The headline figure was up 3.8% month-over-month. Outpacing consensus forecasts of 1.9%, and sharply above last month's reading of -2.5%. The gains were driven by notable increases in online sales (non-store), furniture sales, and a rebound in auto sales, which were up the most in 10 months.
Below is a chart of Honda Motor Company ($HMC) in a strong "Go" trend. Notice that GoNoGo Oscillator confirms the price rally with positive momentum on heavy relative volume: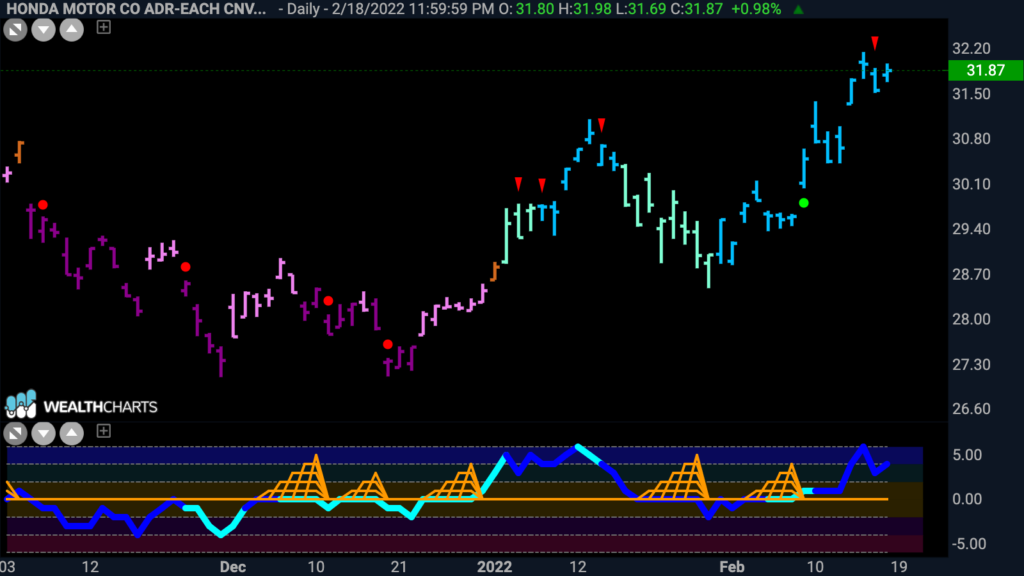 This solid retail sales report reflects a relatively healthy U.S. consumer and perhaps some waning impacts from the omicron variant towards the end of the month. Wall St. analysts see the potential for reopening demand to remain solid in the spring and summer months ahead, particularly if virus trends continue to improve.
A Pause in the Gushing Oil Rally
An eight-week rally that pushed U.S. crude oil prices from around $70 per barrel to as high as $95 faded slightly last week, as the price retreated to around $92 on Friday. The potential for additional oil exports from Iran helped to offset concerns related to supply disruptions stemming from the continuing Russia-Ukraine conflict.  The daily chart of $USO below suggests this trend has the potential to continue as it remains in a "Go" trend on weaker aqua bars. The countertrend correction arrow signaled the waning momentum shown in GoNoGo Oscillator which fell from extreme overbought to the zero-line. We will watch this week to see if the oscillator finds support at neutral or breaks down to oversold levels.

Energizer Trade – Lithium
Sociedad Química y Minera de Chile is a Chilean chemical company and a supplier of plant nutrients, iodine, lithium, and industrial chemicals. It is the world's biggest lithium producer. SQM's natural resources and its main production facilities are located in the Atacama Desert in the Tarapacá region. Check out this quarterly chart of $SQM going back to the mid-1990s: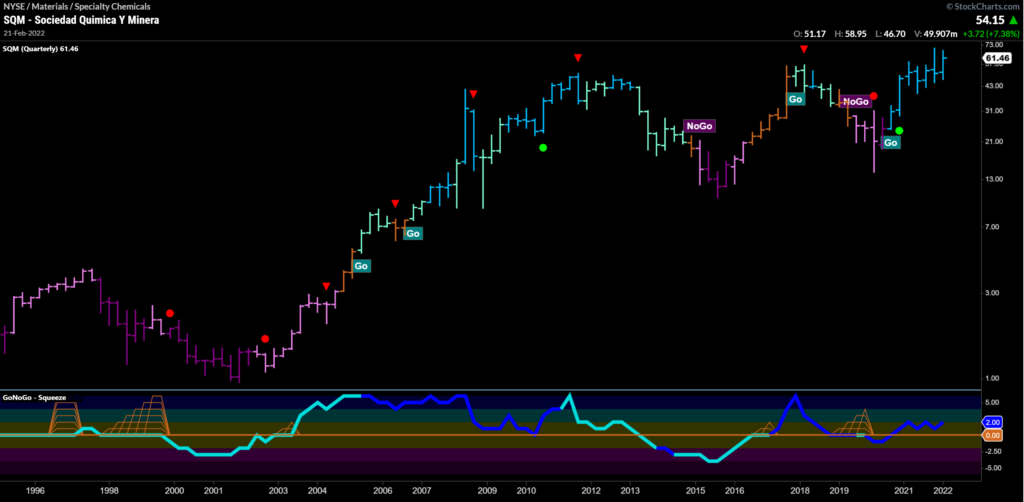 What is fascinating about these shares is that on every timeframe – quarterly, monthly, weekly, and daily – the stock is in a "Go" trend. Notably, the quarterly and monthly charts are poised to lock in all-time closing highs. That is bullish.
If you watched the Super Bowl, mainly for the creative genius in the advertisements as we did, you may have noticed every major auto manufacturer is releasing new electric vehicles. The demand for lithium in each of those batteries could drive price action for lithium miners faster than Arnold could drive that new electric truck!
Emerging Markets (just not China)
Behavioral economists have studied how investors over-allocate to their local stock market. For Canadians, that's working out great, eh? But American investors have been rewarded so heavily for their home country bias throughout this cycle, we may have forgotten the wide world of equities on distant shores. As the charts below will show, relative and absolute opportunities exist for trends in foreign equities. Consider this weekly relative ratio chart of Emerging Markets (excluding China) vs the S&P. The significant downtrend since the start of 2021 has made this space undesirable, but as trend followers, we have to see the break of trendline resistance in 2022. GoNoGo Trend has shifted from a weak "NoGo" to neutral amber last week as GoNoGo Oscillator broke positive for the first time in a year on heavy volume: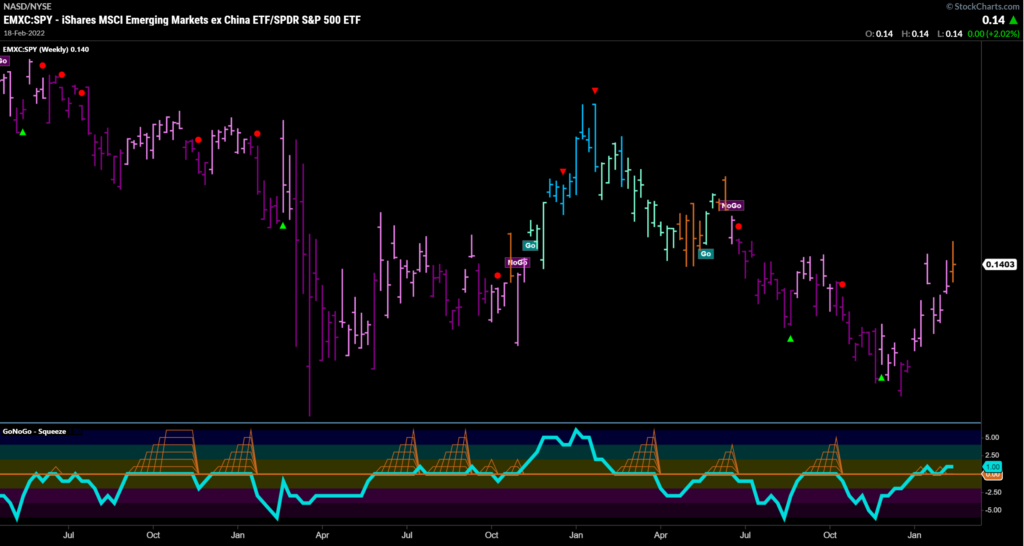 Below is another way to look at relative strength across foreign equity markets. A GoNoGo RelMap of ETFs against the S&P 500 shows that the U.K, the Eurozone, Latin America's top 40, Brasil, Mexico, Colombia, Peru, Hong Kong, Singapore, Thailand, Indonesia and the Philippines are all outperforming the US Equity market on a daily trend basis. Even more importantly, those relative trends have strengthened across the board into the more bullish blue "Go" conditions.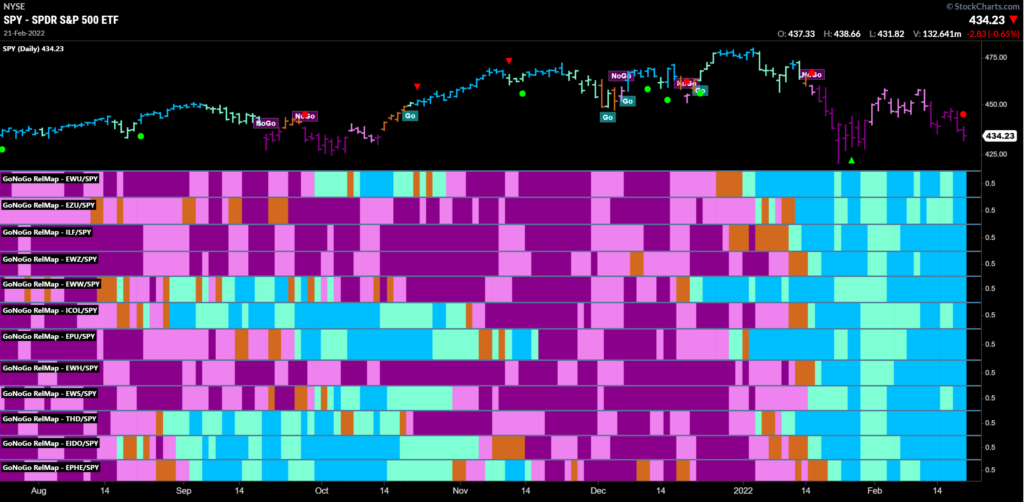 US markets were closed in observance of Presidents Day today, Feb 21st. Consider an alternative to waking up tomorrow and repeating the cycle of the last two weeks. As trend followers, we want to "fish where the fish are." Right now, both absolute and relative trends suggest that the grass may actually be greener in other pastures.
Better Charts. Better Decisions.
Tags:
$EWH
$EWZ
EIDO
EMXC/SPY
EPHE
EPU
EWS
EWU
EWW
EZU
Global Asset Allocation
ICOL
ILF
THD