Good morning and welcome to this week's Flight Path.  Let's take a look at the below GoNoGo Asset Map for this week.  The top panel shows that the trend in U.S. equities continues in its new "Go" trend, albeit weakening to end the week as we see paler aqua bars.  Treasury bond prices maintained their "NoGo" trend as inflationary pressure continue to be a theme.  Commodities, the dollar and bitcoin remain in "Go" trends.  Investors are taking some risk in spite of rising rates.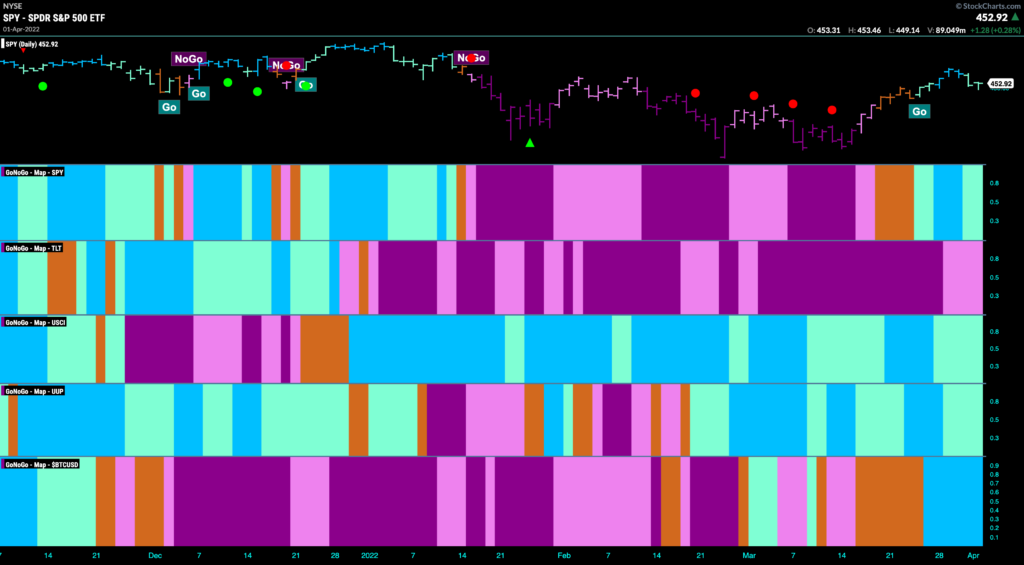 S&P will need to set a low in "Go" trend
Below is the chart of $SPY with daily price bars. We can see that after the incredible two week rally that saw prices cruise through pink then amber then aqua into strong blue "Go" bars, prices have fallen back and GoNoGo Trend is painting aqua bars. GoNoGo Oscillator has fallen from a high and so is in positive territory but not overbought.  We will see if it finds support as it nears the zero line.  If it does it is likely that price will have set a new higher low.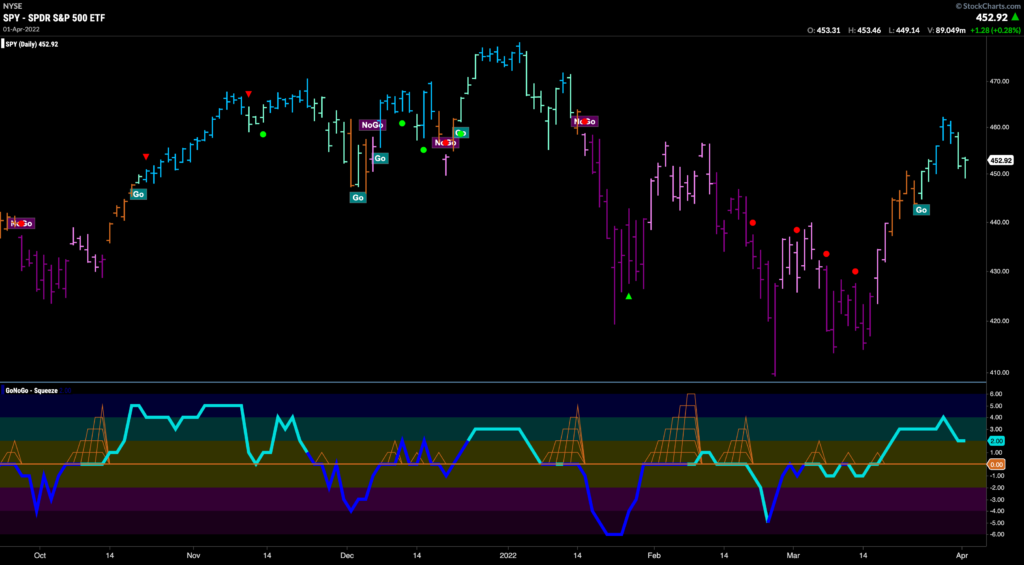 On a weekly chart, we can see that after several weeks of a correction that saw GoNoGo Trend fall into a brief "NoGo", the indicator was able to paint a fresh "Go" bar as GoNoGo Oscillator rallies to the zero line from below on heavy volume.  To confirm the new "Go" trend, GoNoGo Oscillator needs to get back into positive territory.  If it gets rejected here, that would not support the efforts of price to go higher.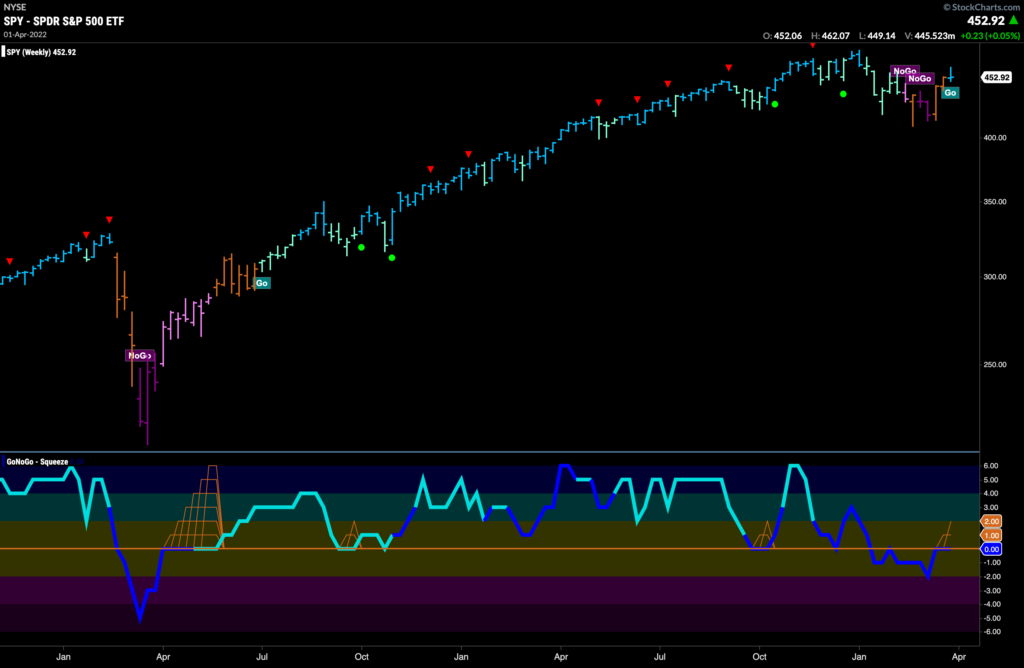 Sector Strength
Below is a GoNoGo Sector RelMap.  The chart applies the GoNoGo Trend to the relative ratio of each sector ETF to the base ETF, the $SPY.  There are six sectors that are showing relative "Go" trends this week.  Energy, industrials, materials, healthcare, utilities and real estate continue to out perform.  In a rising rate environment, it would be no surprise to see these sectors continuing to be strong.  The discretionary sector $XLY has joined the "Go" party.  The rally in the growth sectors continued last week. A good sign perhaps if a more offensive growth sector is also performing well.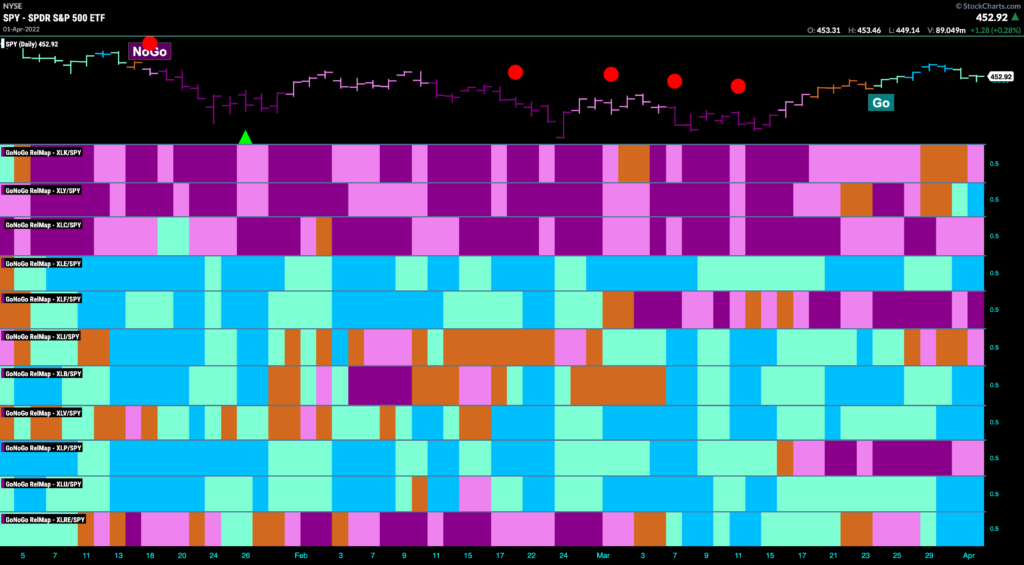 Rising Rates
Rates have been a topic of conversation around the financial water coolers for some time now.  There is no doubt regarding the Fed's plan to hike rates throughout 2022 and into 2023, and below we have a GoNoGo Chart of $TNX, the 10 year U.S. Treasury yield.  We can see that the trend is strong but that after a Go Countertrend correction arrow price has consolidated mostly sideways as GoNoGo Trend paints aqua "Go" bars.  GoNoGo Oscillator has fallen to the zero line where we will look for it to find support.  If it can, look for price to move higher and set a new higher high.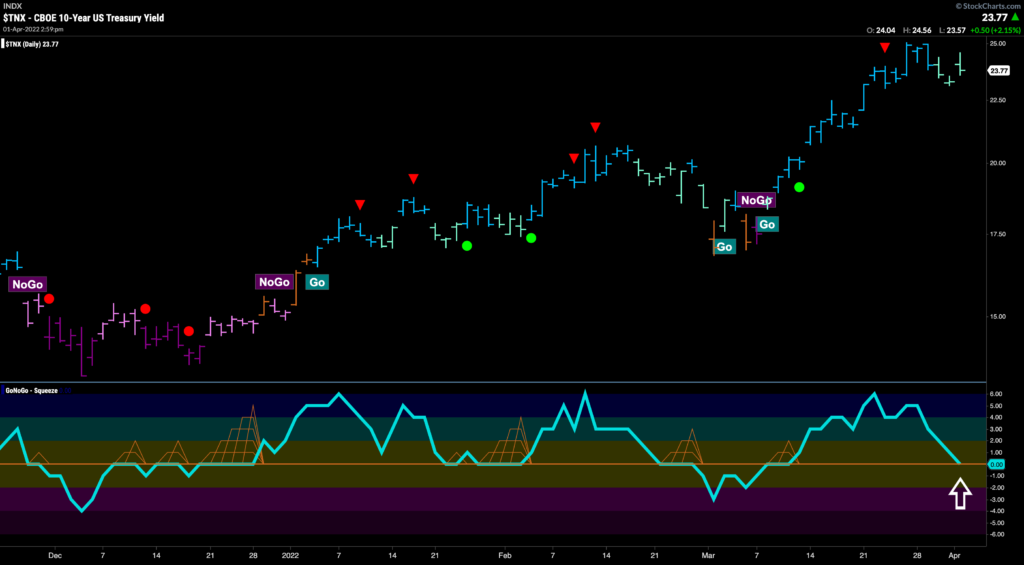 What could be $GOOD in a rising rates environment?
With inflation its highest in decades, many investors will turn to income producing stocks.  $GOOD, Gladstone Commercial Corp is a real estate investment trust, and with a dividend of $1.50 could be an attractive option at almost 7% dividend yield. The GoNoGo Chart below shows that after being in a "NoGo" for much of this year, price is climbing out into a new "Go" trend.  GoNoGo Oscillator first suggested the positive change as it broke above zero on heavy volume in early March.  Then, we saw the oscillator find support at zero as it broke out of multiple GoNoGo Squeeze grids into positive territory.  GoNoGo Trend then followed by painting aqua "Go" bars.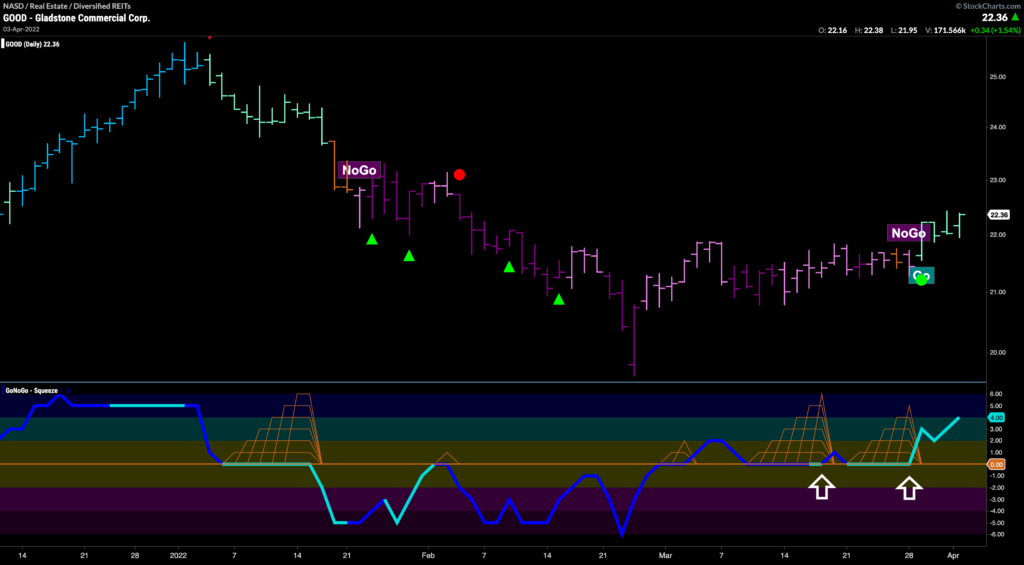 Time to Use Your Discretion Again?
On the other side of the investing spectrum, it appears that investors are prepared to take on additional risk.  On a relative basis, we saw that the consumer discretionary sector was starting to outperform the $SPY.  Below is the GoNoGo Chart of $XLY and we can see that on a pure trend basis, with daily bars, the trend is a "Go".  If this new trend is to persist, we will need to see the GoNoGo Oscillator remain in positive territory, finding support at the zero line as price sets a new higher low.  We can see how the "Go" trend followed bullish divergence as price made lower lows but GoNoGo Oscillator made higher lows.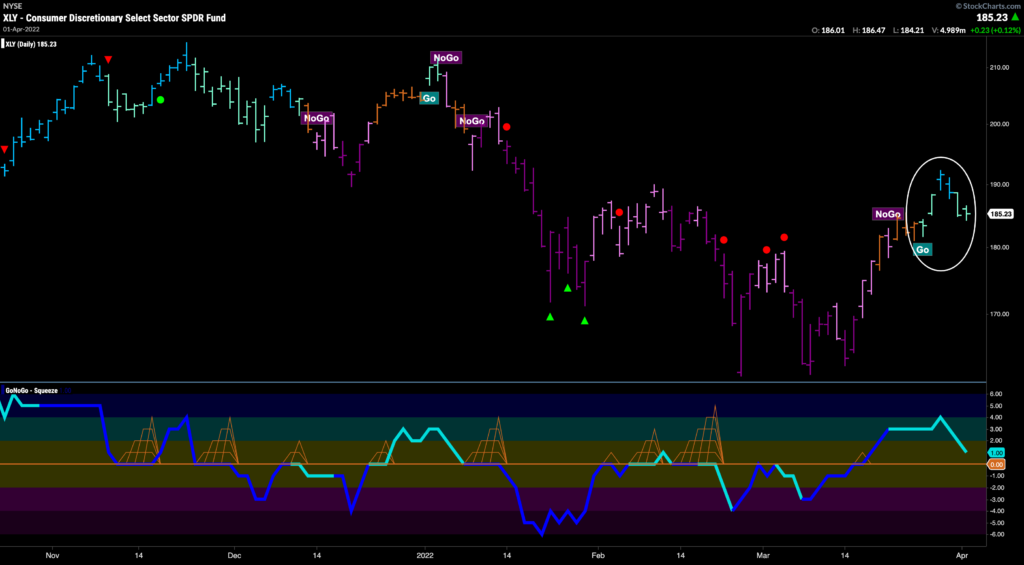 Ebay Inc enters "Go" trend
Ebay is a strong play for those seeking to capitalize on discretionary sector outperformance.  We saw a clean "NoGo" trend with a series of lower highs and lower lows, and GoNoGo Oscillator being rejected over and over by the zero line.  In the middle of March, GoNoGo Oscillator significantly broke above zero, and as price climbed GoNoGo Trend moved through a series of weaker pink bars, a few amber "Go Fish" bars, followed by the new "Go" trend as the indicator paints aqua bars.  As investors digest gains following a Go Countertrend correction arrow, the oscillator is approaching zero where we will look to see if this level now provides support.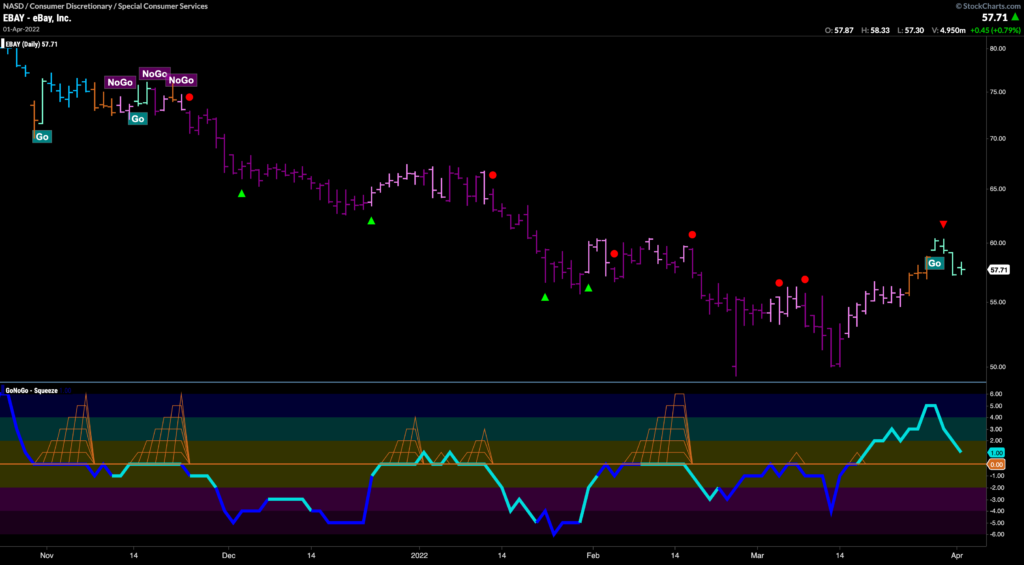 Who's playing the $GAME this time?
Another discretionary stock, Gamestop Corp looks poised to take investors for another wild ride.  After falling to lows in the last "NoGo" of just under $78, prices rallied sharply over the last two weeks and have broken above horizontal resistance as a new "Go" is identified.  With this break came heavy volume as GoNoGo Oscillator changed to the darker blue color.  Now, as it approaches the zero line from above, we will look to see if it can find support.  If it does, look for price to try to set a new higher high above $200.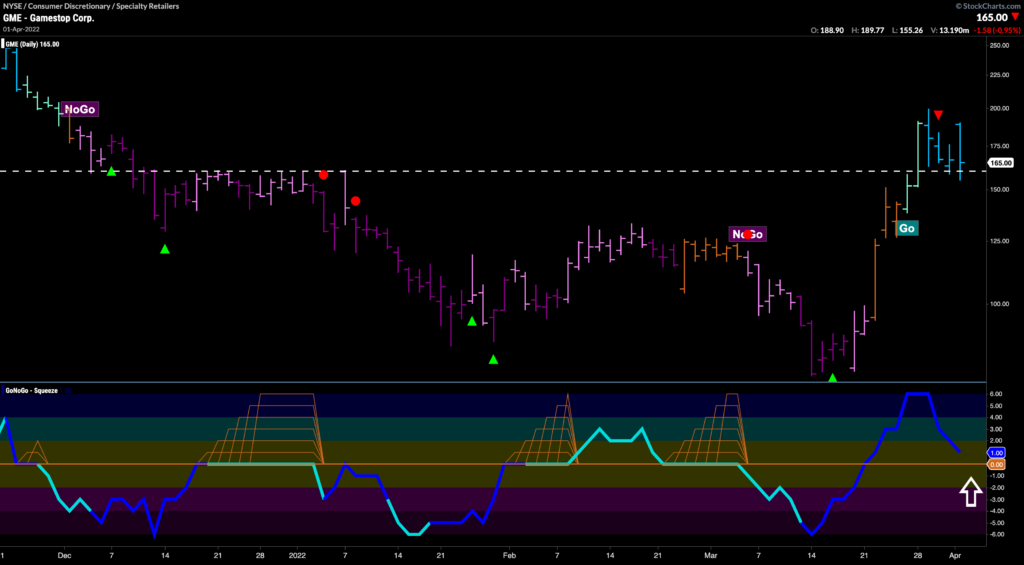 BETTER CHARTS. BETTER DECISIONS.
Tags:
#RelativeStrength
$EBAY
$GME
$SPY
$TNX
$XLY
Discretionary
GoNoGo Heat Map
GoNoGo Oscillator
GoNoGo RelMap
GoNoGo Sector RelMap
GoNoGo Trend
Inflation
sector rotation
US10yr