Good morning and welcome to this week's Flight Path. Let's take a look at the GoNoGo Asset map below.  Equities have turned!  We see a "Go" bar at the end of the week.  As we'll see that lines up with a new "Go" trend on the weekly chart as well. Treasury bond prices also in a "Go" trend and the dollar continues in its "NoGo" trend. Commodities continue to struggle.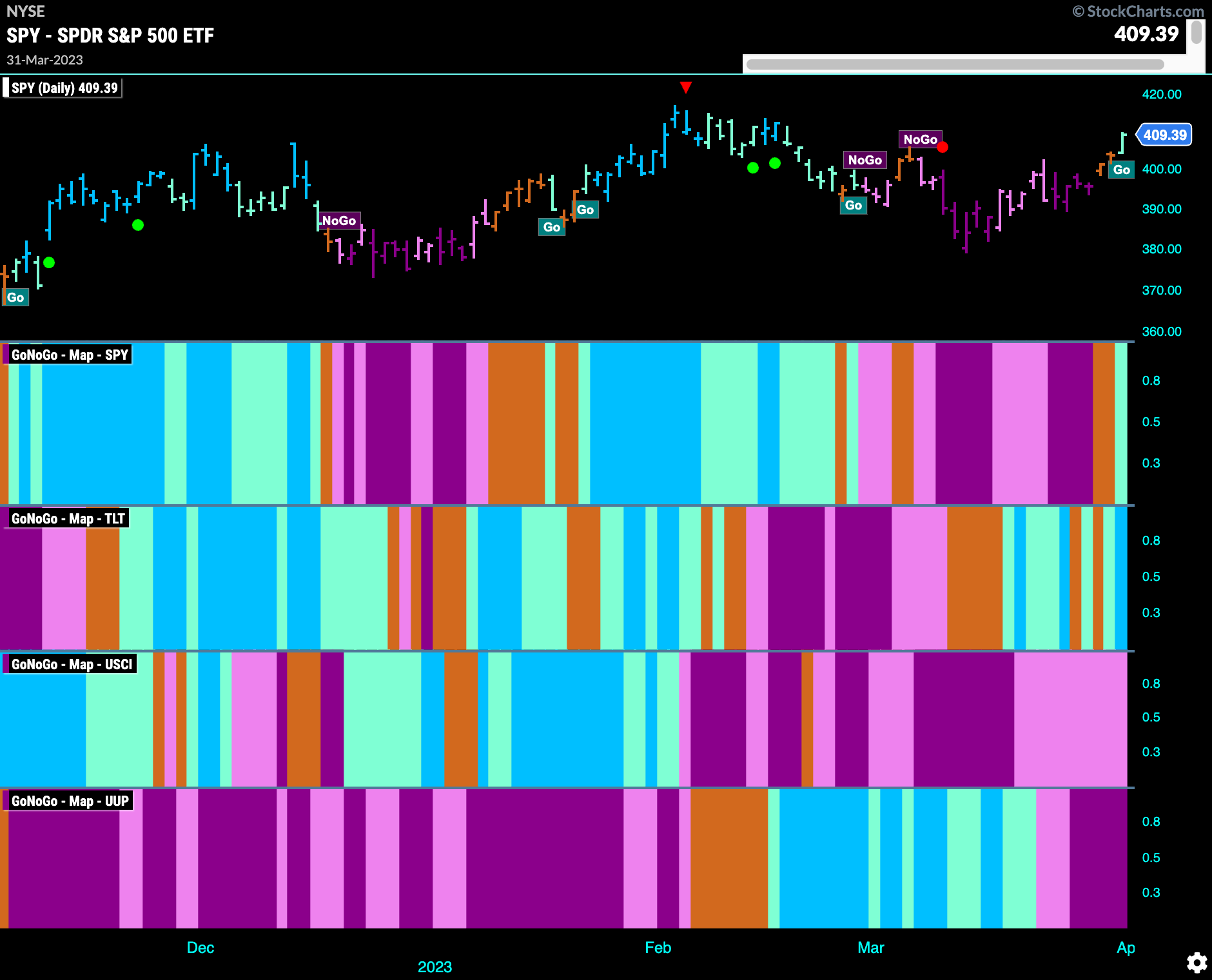 Equities Break out of Squeeze into "Go" Trend
Last week we discussed the Max GoNoGo Squeeze that we saw on U.S. equities.  That Squeeze was broken this week as GoNoGo Oscillator burst out into positive territory and that gave price the push it needed to cycle through amber "Go Fish" and into a "Go" trend.  We saw an initial aqua bar on Friday as price moved higher.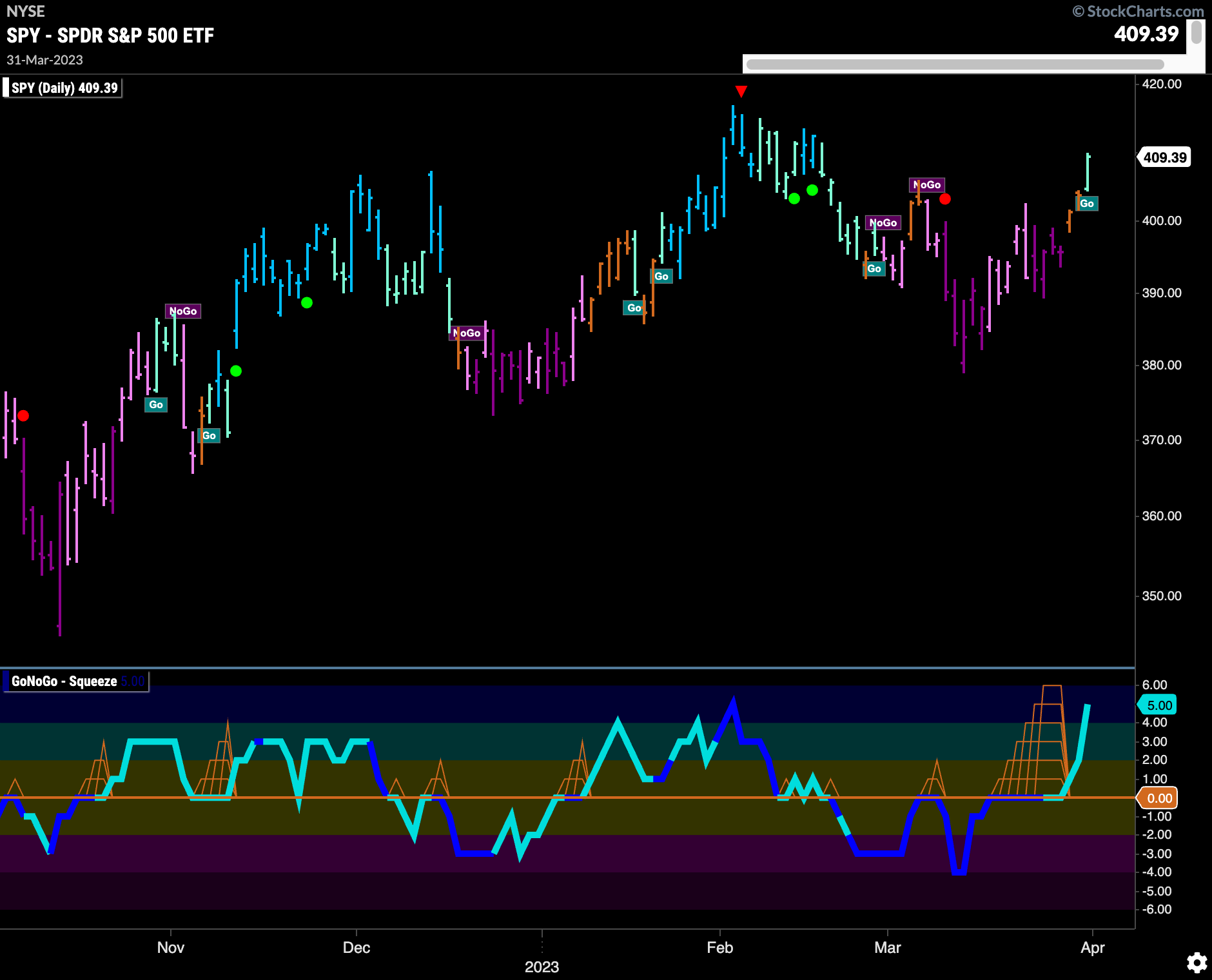 The weekly chart continues to look strong.  Last week's aqua "Go" bar that started this "Go" trend was followed by a strong blue bar this past week.  As price puts in another higher low GoNoGo Oscillator was able to break out of a small GoNoGo Squeeze into positive territory on heavy volume.  We will look for price to make an attempt at a higher high over the next several weeks.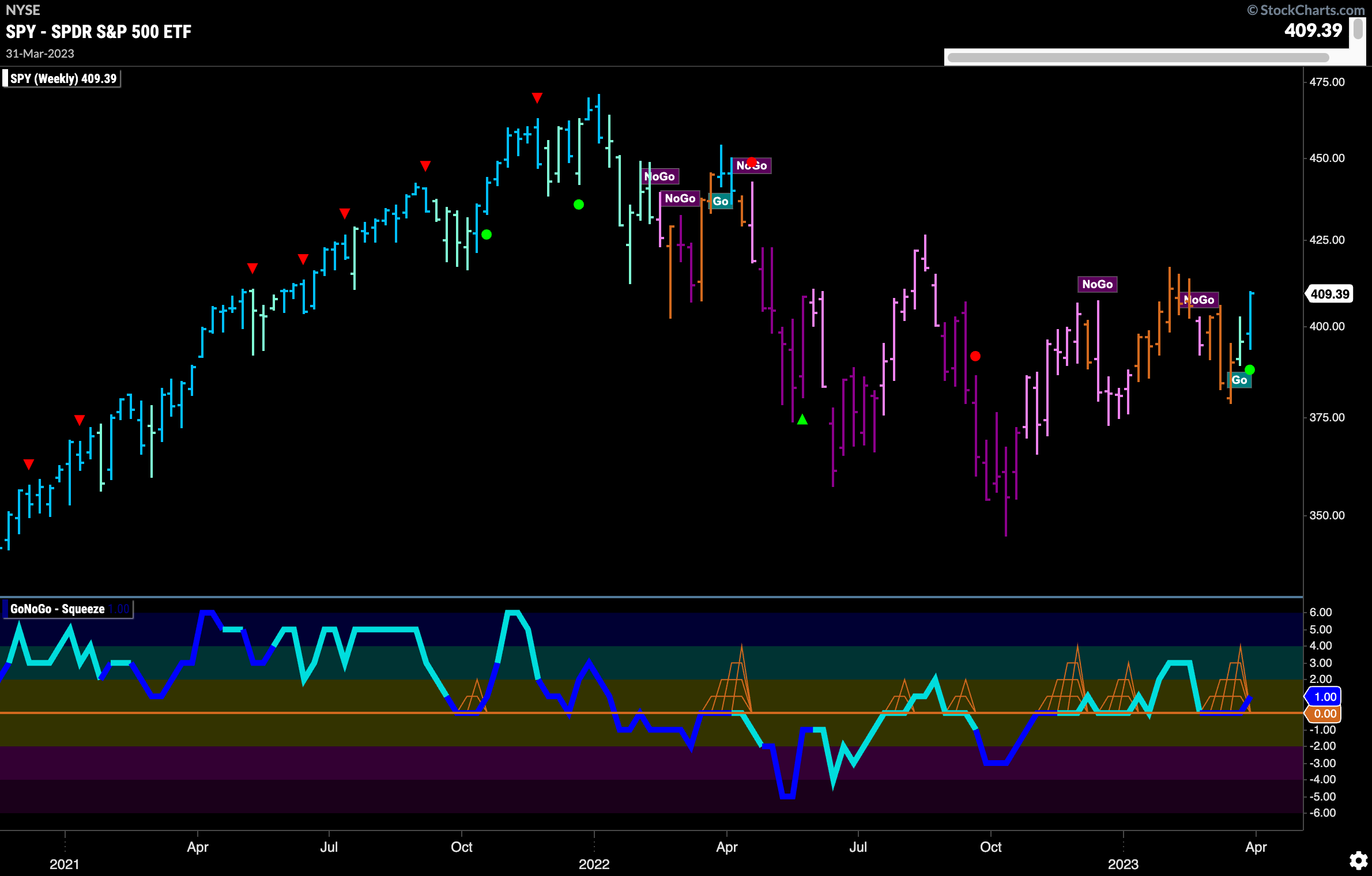 Treasury Rates Remain in "NoGo"
Treasury rates continued to paint "NoGo" bars this week albeit weaker pink ones.  We have yet to retest the support levels that we saw hold a week ago.  GoNoGo Oscillator is now back at the zero line where we will look to see if it finds resistance.  If it does, we can expect price to move lower in an attempt to set new lows.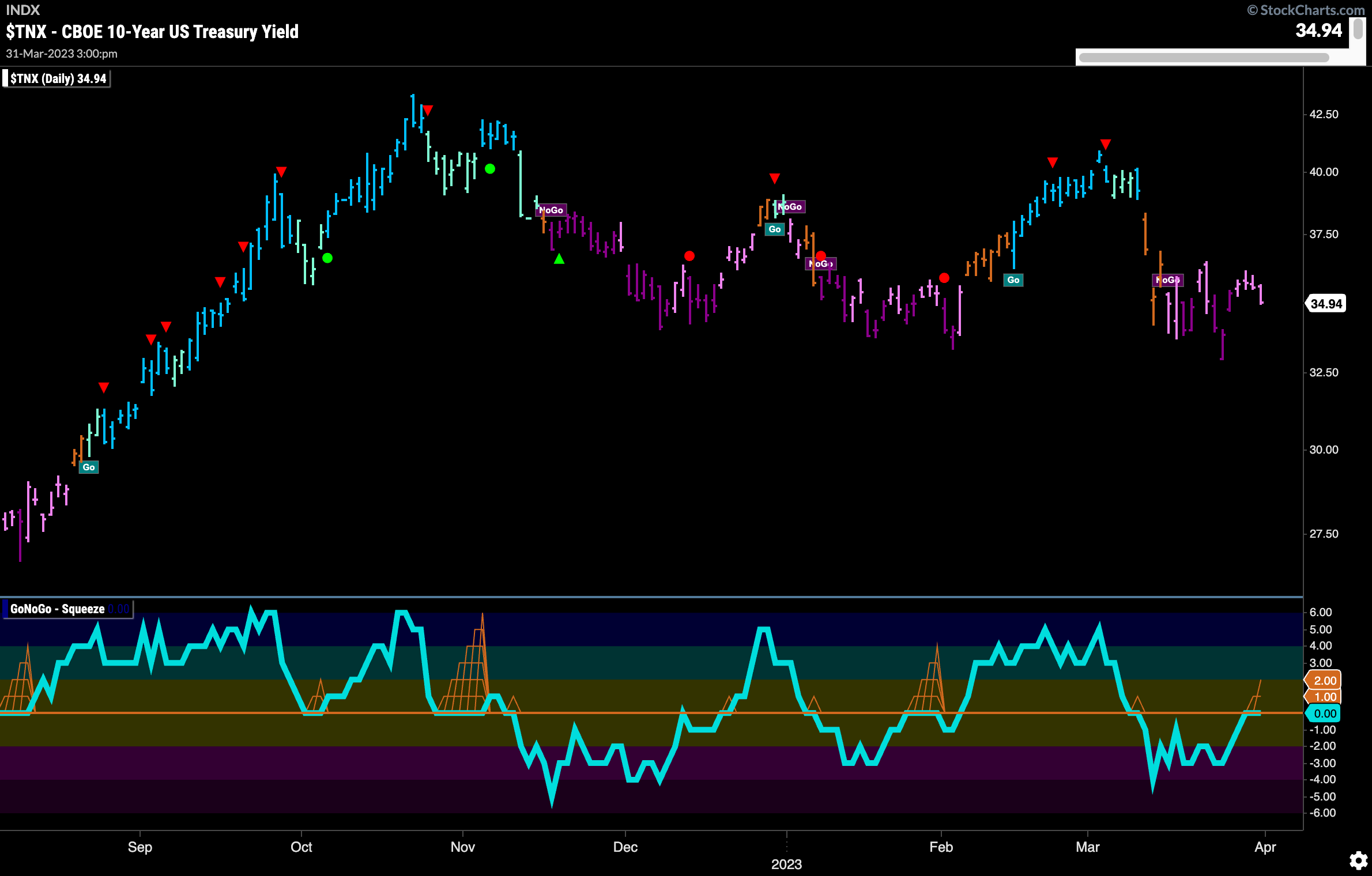 We can see that on the weekly chart the trend is showing uncertainty with a second consecutive amber "Go Fish" bar.  GoNoGo Trend shows price has fallen out of the "Go" trend that was in place for over a year.  GoNoGo Oscillator is back below the zero line as well indicating bearish momentum.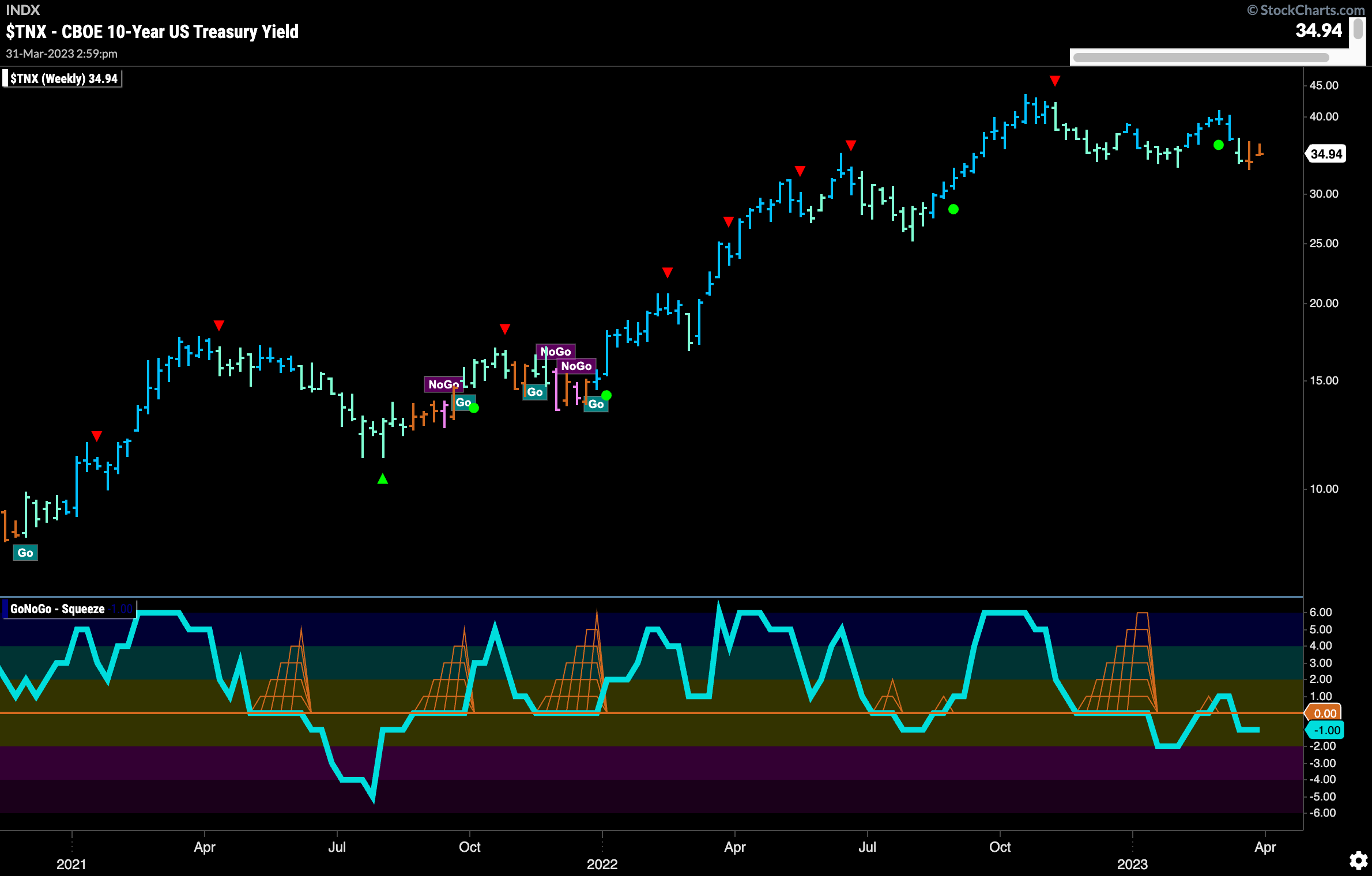 Dollar Sees "NoGo" Trend Strengthen
GoNoGo Trend painted stronger purple bars this entire week as the trend in the dollar intensified.  GoNoGo Oscillator is in negative territory but not oversold.  We will look for this trend to continue as price looks to approach prior lows.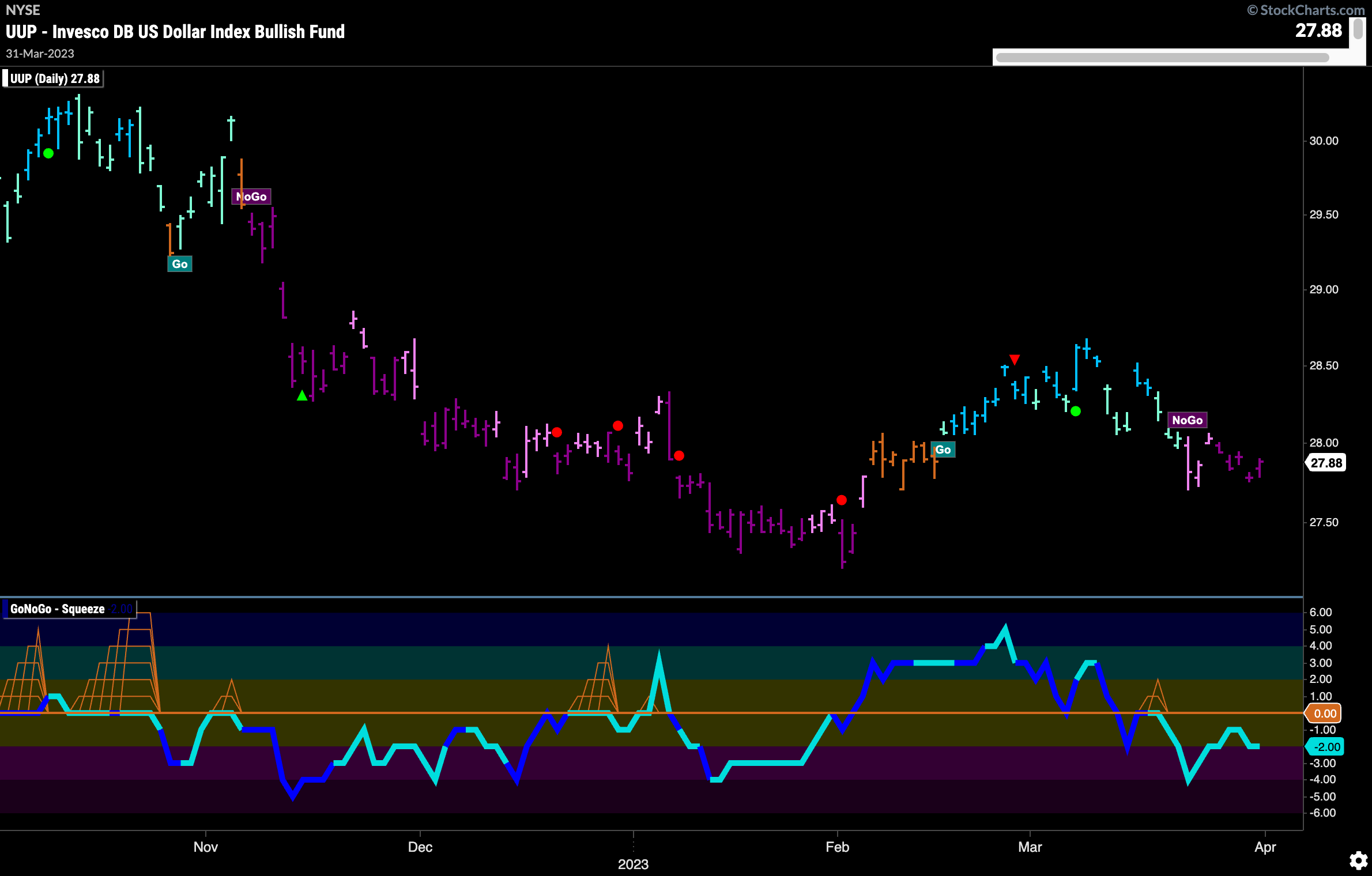 The weekly chart shows that the larger time frame trend is still a "NoGo".  Painting another strong purple "NoGo" bar we can see that GoNoGo Trend is sure of the current trend.  GoNoGo Oscillator is riding the zero line for another week as we see the climbing grid of GoNoGo Squeeze climb to its max.  We will watch to see in which direction the squeeze is broken.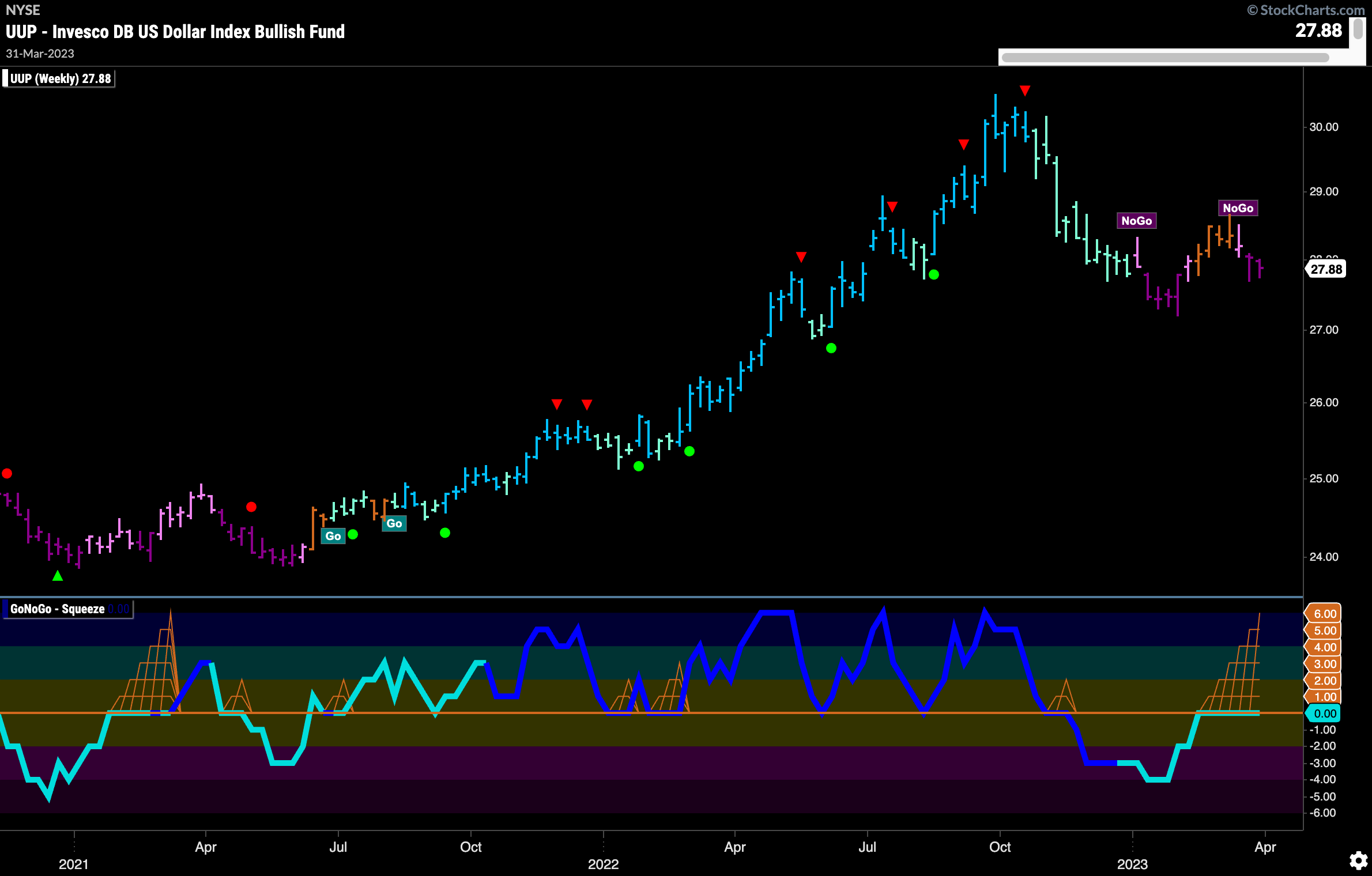 Oil Remains in Strong "NoGo" Trend
$USO sees GoNoGo Trend paint another strong purple "NoGo" bar even as price rallied last week.  Well below prior highs, the trend remains in place.  GoNoGo Oscillator has risen once again to test the zero line from below on heavy volume.  We will pay attention to see if this level acts as resistance.

Gold Consolidates Gains
$GLD saw more "Go" bars this week as price moved mostly sideways since making a new high.  Price is consolidating above prior highs from January and GoNoGo Oscillator has been in positive territory since the new trend emerged.  Now, it is testing the zero line from above and we will watch to see if it finds support.

Sector RelMap
Below is the GoNoGo Sector RelMap.  This GoNoGo RelMap applies the GoNoGo Trend to the relative strength ratios of the sectors to the base index.  Looking at this map, we can quickly see where the relative outperformance is coming from as well as which sectors are lagging on a relative basis.  3 sectors are outperforming the base index this week.  $XLK, $XLC, and $XLP are painting "Go" bars.
Renewable Energy Helping Tech Sector Outperform
Diving deeper into the communications sector we can see that along with the long stranding outperformance in semiconductors there is a "Go" trend in renewable energy technology.  That is the top panel in the RelMap below.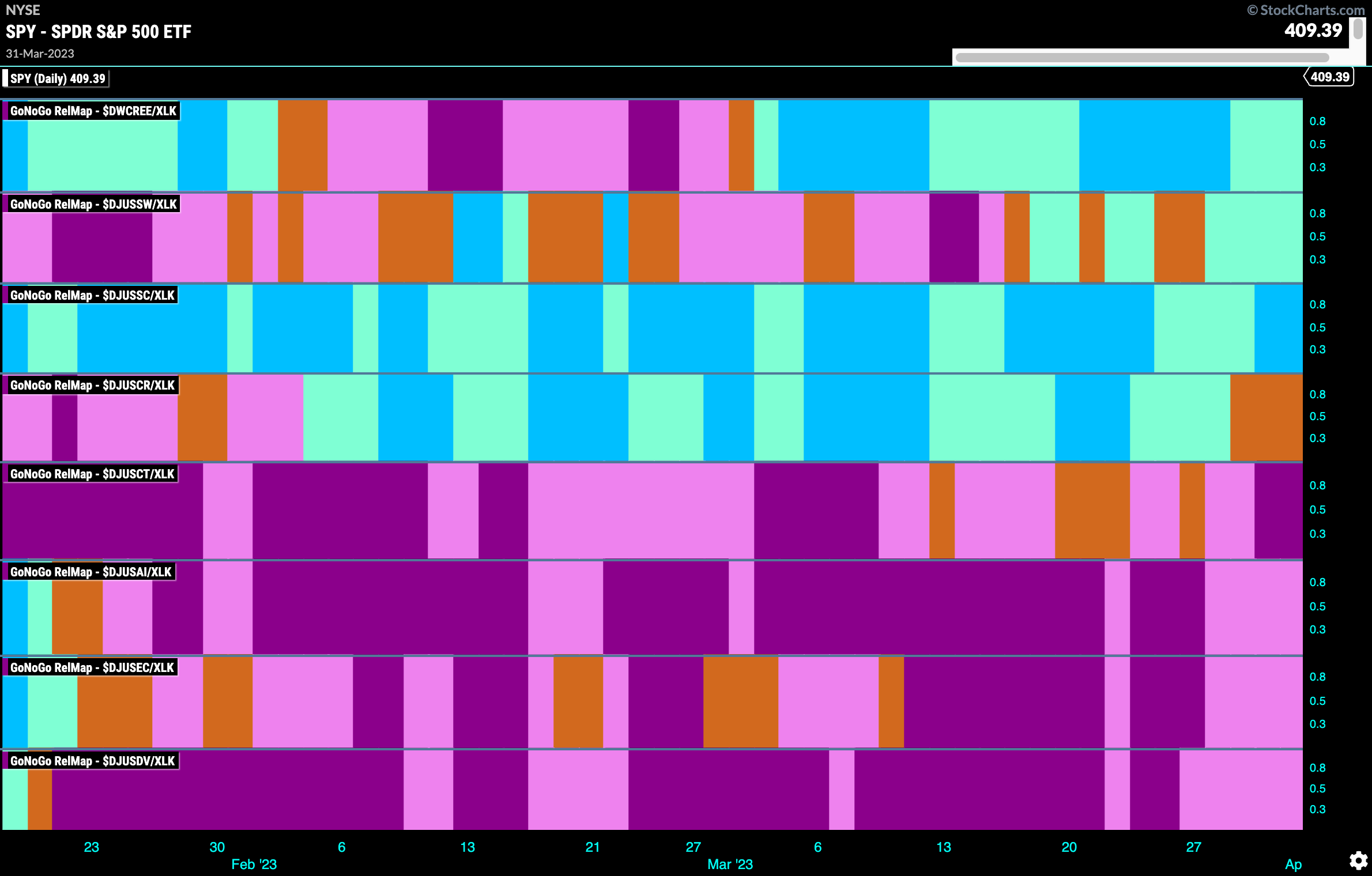 First Solar Poised to Move Higher Again
The chart below shows the GoNoGo Chart of $FSLR and we can see that since the GoNoGo Oscillator broke back into positive territory on heavy volume in early March, the trend has been a "Go".  After a Go Countertrend Correction Icon (red arrow) we have seen price correct against the trend and GoNoGo Oscillator fell to the zero line.  As it remained at that level, a Max GoNoGo Squeeze ensued showing the tug of war between buyers and sellers.  It appears that the buyers have won the day, with the Squeeze being broken into positive territory.  This has caused a Go Trend Continuation Icon (green circle) to appear under price and suggests an attack on new highs.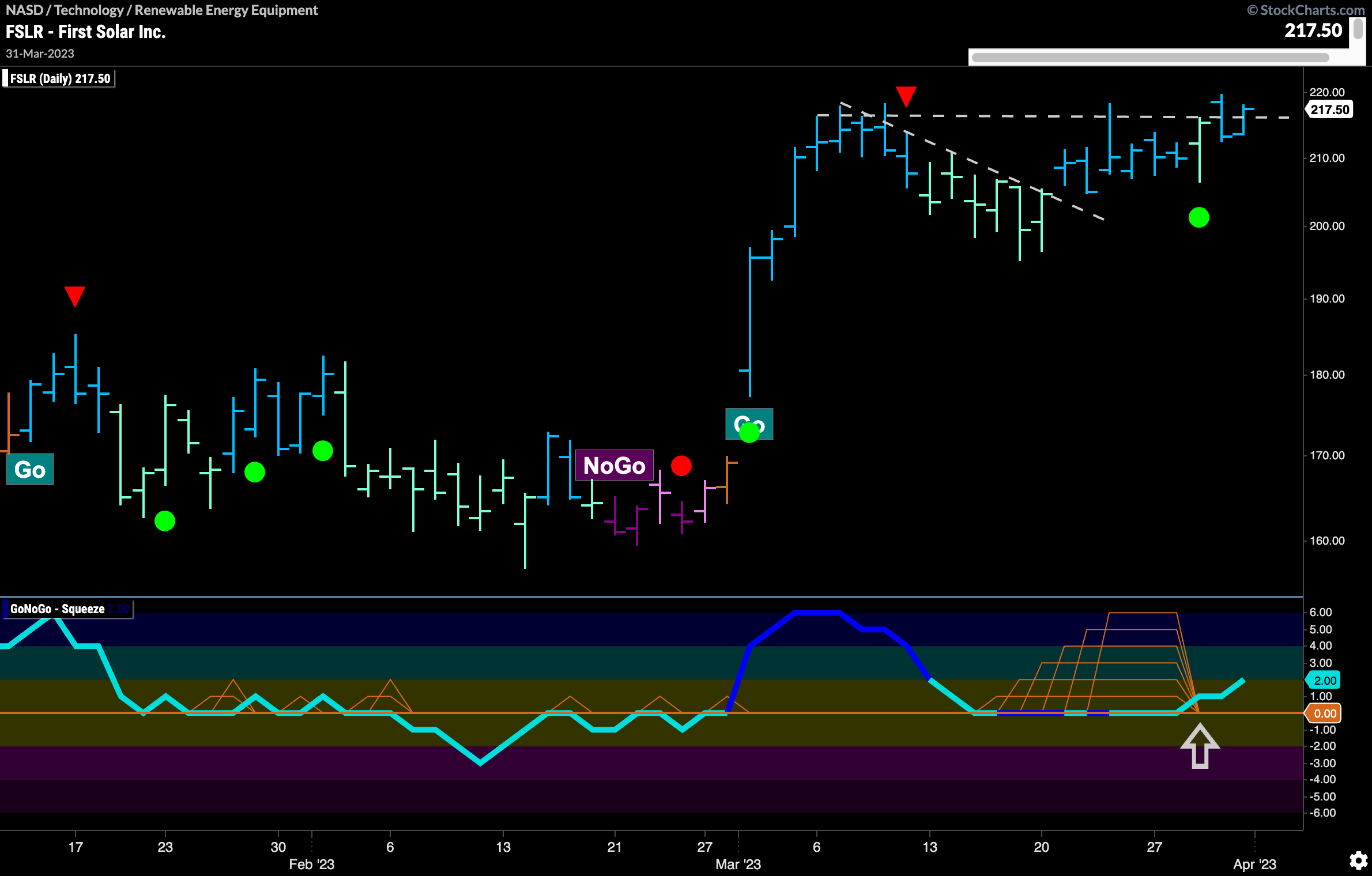 If we zoom out to the weekly chart, we can see that on this timeframe we are also in a "Go" trend with the last couple of weeks seeing strong blue "Go" bars.  GoNoGo Oscillator broke out of a Max GoNoGo Squeeze several weeks ahead of the change of trend. GoNoGo Trend painted some amber "Go Fish" bars before settling into the "Go" colors.  Now, the trend is clearly in place with the oscillator in positive territory confirming the trend in price.
BETTER CHARTS. BETTER DECISIONS.
Tags:
#RelativeStrength
$SPY
$TLT
$TNX
$USO
GoNoGo Asset Class HeatMap
GoNoGo Heat Map
GoNoGo Oscillator
GoNoGo Sector RelMap
GoNoGo Trend