This was an impressive week for the S&P 500, which gained 1.7%. But there were several extremely positive metrics hit on the monthly closing data received on Wednesday, including the fifth consecutive month of positive performance. In addition, popular market historians such as Ryan Detrick, CMT noted that June 30, 2021 marked the fifth consecutive quarterly return above 5%. The only other occurrence of such persistent positive market performance was in 1953/1954. Now, after seven straight record weekly closes, the S&P 500 sits atop the 4300 level, and investors look to stay on the right side of the primary trend.
Welcome to  your latest GoNoGo Launch Conditions Monthly June 2021. Get reacquainted with the primary trend to better understand if you are trading countertrend reversions or alongside the dominant market direction as you look at shorter timeframes. Open your chart pack below: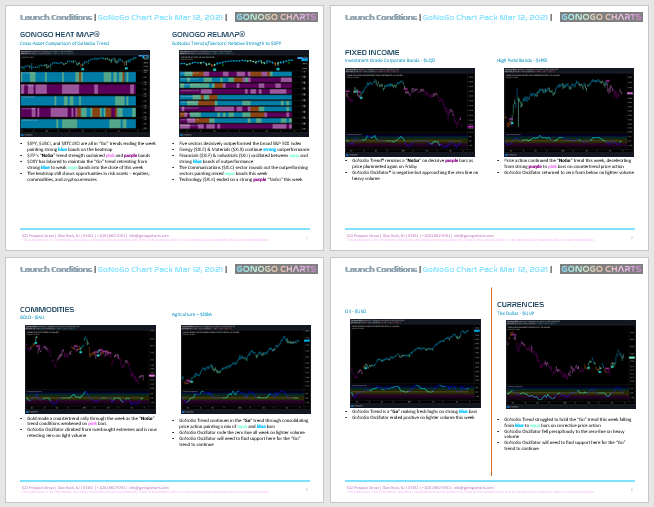 US Equities
Weekly Leaders: 8 of the 11 S&P 500 sectors contributed to the advance this week, led by information technology (+3.2%), consumer discretionary (+2.1%), and communication services (+1.9%).
Weekly Laggards: The energy (-1.1%), financials (-0.1%), and utilities (-0.02%) sectors all closed lower.
And, if we look at the GoNoGo Relmap® on a monthly timeframe, we see that tech and discretionary have held their outperformance trends consistently, despite the rotation to cyclical/value sectors over the past several weeks.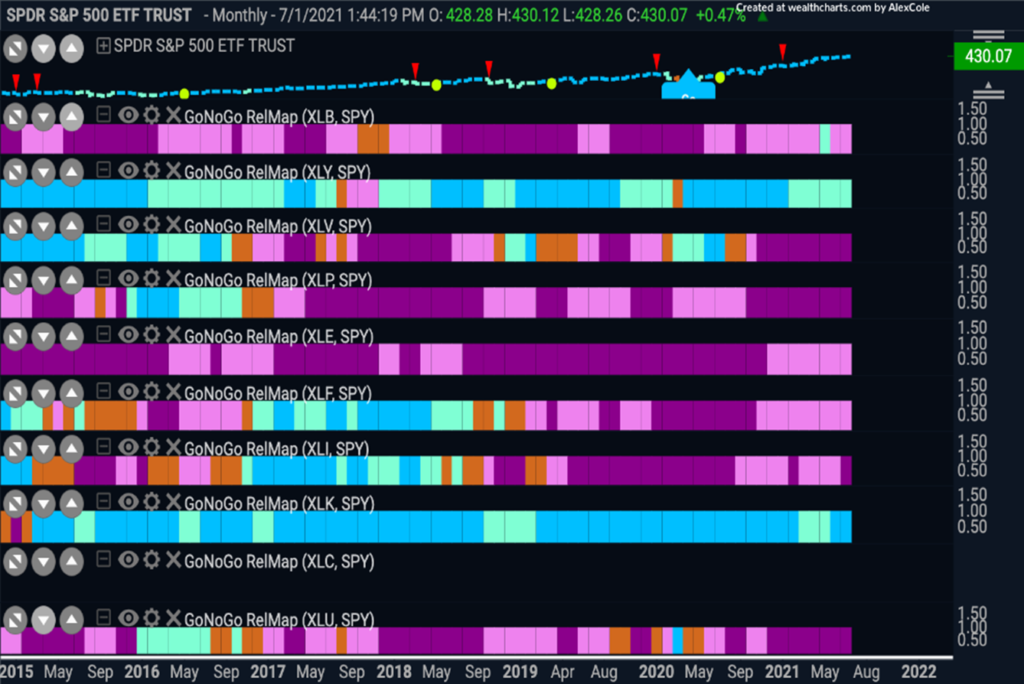 Inflation? Peak Growth?
June nonfarm payrolls increased by 850,000. Yet, the unemployment rate (5.9%), missed expectations. In addition, the labor force participation rate (61.6%) was unchanged, and there were higher rates of unemployment for minority groups. Markets responded to the fresh labor data very positively. According to analysts, the numbers were strong enough to instill confidence about the recovery but not so strong that they could have accelerated the Fed's timeline to reduce asset purchases.
Extra Credit (Markets)
There was an 11-basis-point decline in the 10-yr yield (1.43%) this week, which again acted as a tailwind for growth stocks, especially the mega-caps. Facebook $FB topped $1 trillion market cap this week.
Bond purchases are strengthening trends throughout the quality spectrum. The GoNoGo Chart of High Yield bonds is at a critical juncture as $HYG approaches prior highs: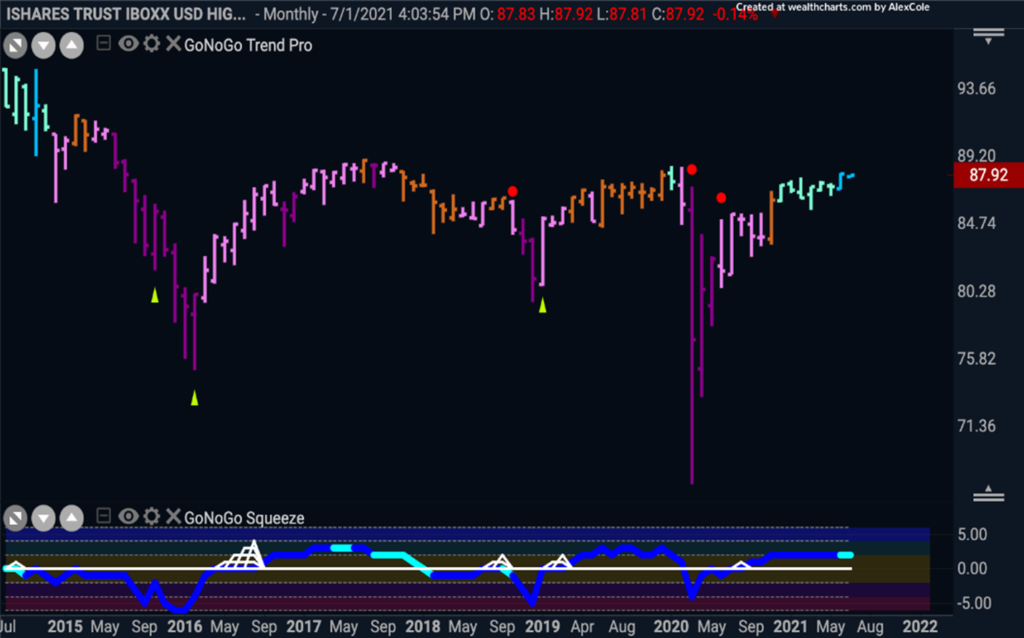 GoNoGo Trend has strengthened to bright blue bars indicating the strongest trend conditions and GoNoGo Oscillator is positive, but not overbought. However, $HYG remains near significant multi-year resistance levels.
Commodities
Though slightly down for the month of June, agricultural commodities are in the very early innings of a newly established "go" trend with tremendous upside potential. See the GoNoGo Trend® chart of $DBA below painting aqua bars for the past 3 months: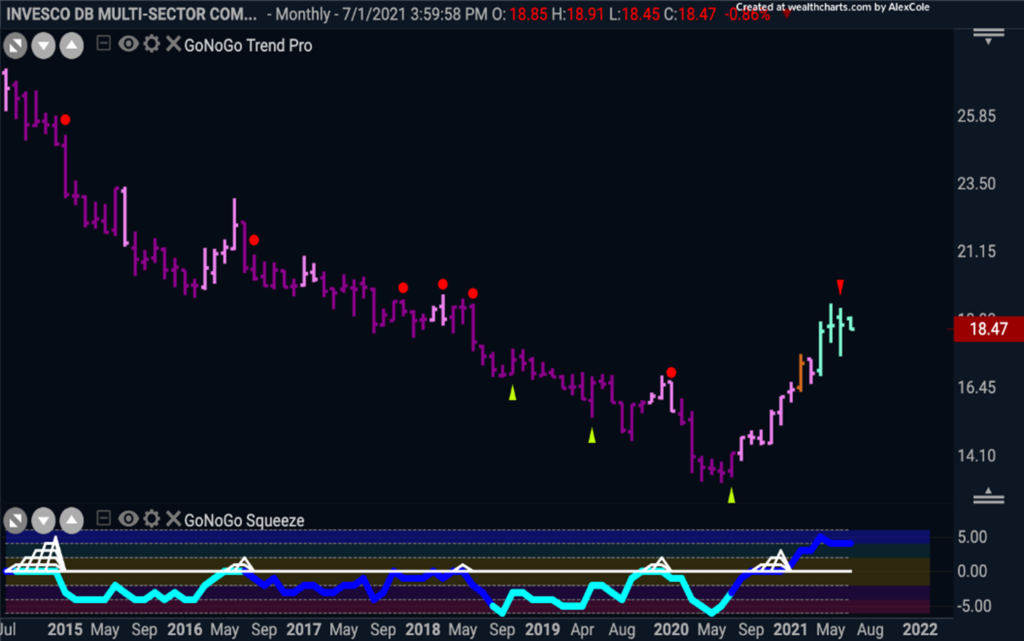 The GoNoGo Oscillator climbed further into positive territory on heavy volume as $DBA attained critical momentum to escape the long-term "NoGo" trend conditions.
Separately, WTI crude futures topped $75 per barrel this week. Prices last seen in October 2018. Oil is up 89% over the past year, and yet still a long distance from all-time highs. See the monthly GoNoGo chart below of $DBO.
GoNoGo Trend has strengthened to a "Go" in the last few monthly bars as price tries to set a higher high. GoNoGo Oscillator is now overbought on heavy volume.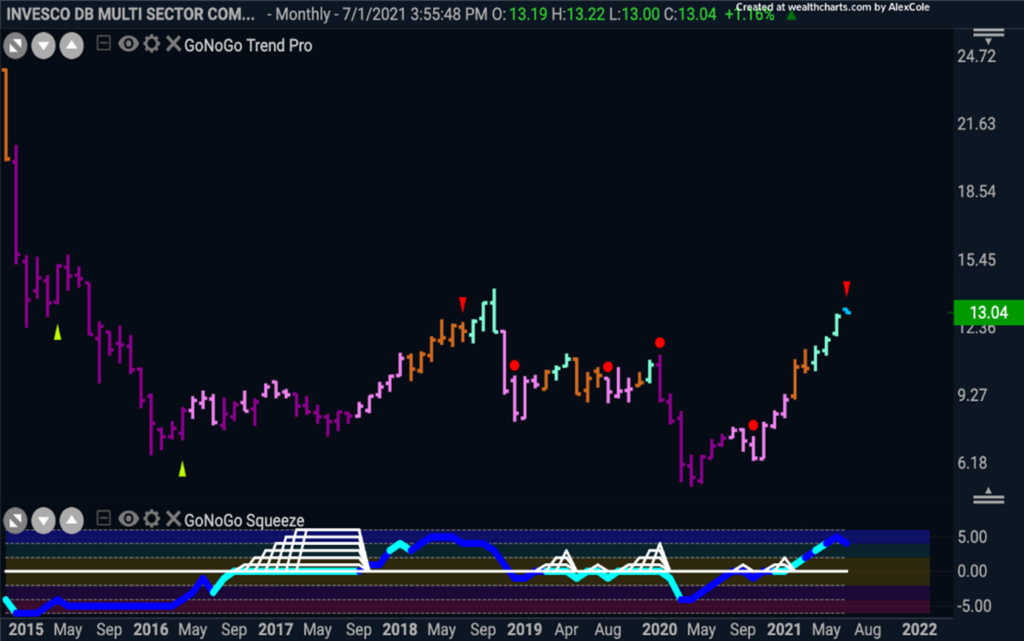 As you preparing for the second half of 2021, we GoNoGo Charts are a helpful part of your disciplined approach to investing. Reviewing long-term trends can help put shorter-term opportunities in context.
An idiot with a plan can beat a genius without a plan. – Warren Buffett
For those in the US, we hope you enjoy the long holiday weekend! GoNoGo Research including Flight Path and Daily Ideas will be paused next week while our team spends time with our families. We'll return to our GoNoGo Family next weekend with Launch Conditions.
Better Charts. Better Decisions.
Tags:
$HYG
$USO
$XLK
Commodities
GoNoGo RelMap
GoTrends
Growth stocks
Junk Bonds
Long-Term Trends
Mid-year outlook
multiple timeframe analysis
Relative Strength
S&P 500
US10yr